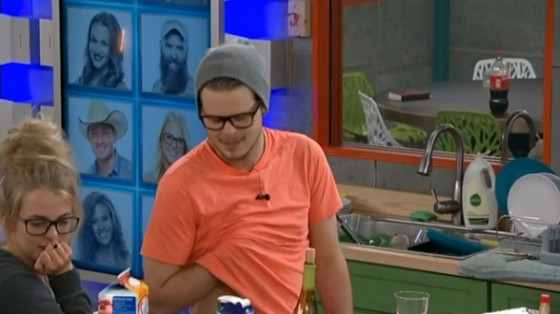 It was a pretty quiet eviction evening in the Big Brother 16 house as Nicole has accepted her fate and the HGs were locked down for several hours while production closed up and did some work on the Have-Not room. Find out what else happened on the Big Brother Feeds in the house yesterday.
Big Brother 16 Live Feed Highlights – Wednesday, September 3, 2014:
3:10 PM BBT – Cody tells Caleb that if he wins the HOH during tonight's double eviction, he's putting Frankie up. Caleb says he has to put Christine up next to him to make it work.

3:24 PM BBT – Frankie says if Victoria makes it to the end he's voting for her.

3:45 PM BBT – BB tells the HGs to report to HOH for a lockdown. HGs earlier had to clear their stuff out of the Have-Not room so production can change it or close it (Have-Nots are over this season).

3:53 PM BBT – Feeds go to highlights.

6:58 PM BBT – Feeds finally return. HGs smell paint, but can't get into what was the Have-Not room.

7:25 PM BBT – Frankie apologizes to Christine for the way he has been acting around her. He says he's been all over the place since Nicole came back into the game.

7:31 PM BBT – Nicole and Victoria have win and share a toast. Nicole thanks for her being such a good friend to her since she came back into the house.

8:12 PM BBT – Frankie tells Derrick that he apologized to Christine.

9:18 PM BBT – Victoria is practicing her final plea.

9:40 PM BBT – Cody asks Nicole if Hayden hates him. She's trying to avoid it, but she's failing. He can tell Hayden hates him.

9:44 PM BBT – Nicole tells the HGs once you're out of the house you don't hate anyone from the game.

10:05 PM BBT – Nicole has been drinking. She asks Caleb why he's called Beast Mode Cowboy because she hasn't seen him do anything all season.

10:30 PM BBT – Derrick is trying to protect Frankie. He thinks he'll be loyal to the end. Cody wants to put him up but Derrick says he wants Christine out first.

11:30 PM BBT – Nicole asked Caleb why he came after her. Caleb suggests the rest of the house wanted her out and he couldn't go against them.

11:50 PM BBT – Christine tells Cody about Frankie whispering to her earlier. He apologized for being weird with her. She said it was because she was being friendly to Nicole and that upset Frankie.

12:10 AM BBT – Cody tells Derrick he can't target Christine instead of Frankie in Thursday's DE. Cody is worried that Caleb will try to take Frankie to the F2.

12:30 AM BBT – Derrick is working on Caleb that all the girls love Cody and follow him around. (Seeding for worries that female Jurors would vote for Cody in F2.)

12:50 AM BBT – Derrick warning Cody about putting up Frankie. (Derrick wants Christine nom'd.) He tells Cody if they put up Frankie and he comes down then it'll divide the guys with Caleb & Frankie vs Derrick & Cody with Cody unable to play in the next HoH.

1:10 AM BBT – Nicole talks with Derrick to make herself feel better about the situation. He tells her nothing she could have said would have changed Caleb's mind. Derrick warns Nicole the vote will likely be unanimous.

1:25 AM BBT – Nicole wants to mess up Christine's game on the way out. Derrick suggests telling people that Christine and Frankie have played the best game to get them worried. Nicole warns Derrick to be leery of Cody, but ultimately she does think Cody would take Derrick to F2 over Christine.

1:50 AM BBT – Derrick & Nicole continue to chat. Nicole says Derrick would win against anyone in F2. She warns the Jury also likes Cody, but she'll campaign for Derrick.

1:55 AM BBT – Nicole tells Derrick to split up Christine and Cody. She thinks Frankie is after Cody, not Derrick.

2:10 AM BBT – Derrick goes to talk with Cody & Christine. He tells them Nicole said Christine & Frankie were playing a great game (this was his suggestion to Nicole).

2:40 AM BBT – Derrick catches back up with Nicole and lets her know what he told Cody & Christine so their stories are straight.

3:30 AM BBT – Cody and Derrick discuss DE nom scenarios. Derrick again pushing that Christine and Victoria need to go up and to only use Frankie if there's a renom so they know he can't be staying and come down angry.
Hopefully Derrick doesn't get his way in tonight's Double Eviction and we can see some explosive moves (keeping a straight face, I promise). You can watch all of these Big Brother 16 events using the archives flashback, the DVR-like feature of this year's Live Feeds which means it's always live, even when you missed it! Sign-up now to get the free trial to watch it all live & uncensored.
click images to see full-size