Yesterday on the Live Feeds we learned that not only would the HGs receive a special meal but also a special task: empty the Have-Not room and then get out of there.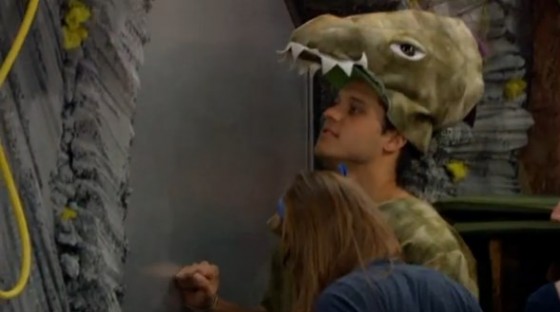 With this being the last week of Have-Nots there was no need to keep the room around anymore, but would the Ice room return with a special purpose?
Around 3:50PM BBT yesterday the HGs were called upstairs to the HoH room for a lockdown. Feeds went down and stayed out for roughly three hours. When things returned just before 7PM BBT the Houseguests rushed downstairs to see what all the fuss was about as they could hear construction work during their lockdown.
Arriving at the silver entryway to the HN room Houseguests said they could smell paint but when they tried to enter the room they found it sealed shut. Frankie called it the most anti-climatic moment of the season for them. Well, I dunno about that. Okay, maybe.
click images to see full-size view
So what's going on with the room? It seems unlikely that the room would have been painted and undergone three hours of construction work just to close it down when it could have just been sealed and left behind for the last few weeks.
Houseguests excitedly speculated that it could be some sort of luxury competition awaiting them. There were also talks of an isolation room like we've seen in past seasons, but several HGs thought that was a lot of work to do for just one day of use.
Whatever is going on with the former Ice room is still a mystery and we don't have any details nor did we get a peak inside for what's to come next. What do you think they might be planning for the room? An isolation punishment from an upcoming comp? Maybe a luxury prize? Share your thoughts!