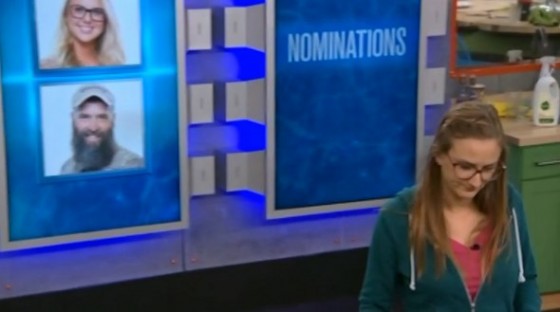 Friday night offered up the Big Brother 16 nominations and a lot of Donny bashing. Christine hates Donny on a personal level and thinks him evil while Cody can't wait to physically attack Donny in the Jury house. It's a great bunch in there!
Booze did find its way in to the house the night before a critical competition as we await the Power of Veto results coming up on Saturday. From the talks we're hearing there could be a shift, but only if Derrick allows his student to make it. Find out what else happened on the Big Brother Feeds in the house yesterday.
Big Brother 16 Live Feed Highlights – Friday, August 22, 2014:
3:52 PM BBT – Feeds return from the Nomination Ceremony. Nicole and Donny are up for eviction.

4:15 PM BBT – HGs are cooking. Frankie tells HGs that he has large testicles, the size of lemons. Frankie takes them out and shows Cody. He says one time it was a medical condition, but he went to the doctor for it.

4:50 PM BBT – Caleb and Derrick discuss super-genius Donny. Caleb says Donny has a very high IQ and theorizes on Donny's time in the military. (Donny was not in the military.)

5:35 PM BBT – Victoria says she is in a lot of pain for her tooth issue and wants painkillers, but DR has not provided her with any.

7:55 PM BBT – Donny talks to Derrick about his chances of staying. He's hoping for ideas on how to survive the next eviction. Donny pointing out how Nicole has won HoH several times and even went after Frankie.

8:25 PM BBT – Cody is asking Derrick about the possibility of putting Frankie up if Donny comes down with the Veto. "Big boy moves!" says Derrick in response. Derrick is trying to talk Cody down from the idea, but does say Nicole is more of a social threat than Donny. I think we all know that if Derrick doesn't okay an idea then Cody will not do it.

10:20 PM BBT – Booze delivery. The HGs receive 2 bottles of wine and a six-pack. The night before a Veto comp? Hmm. Only Cody, Christine, and Victoria get in to the booze.

11:55 PM BBT – HGs noting how swollen Victoria's face is from her tooth issue. She still has not seen a doctor.

12:15 AM BBT – Cody says he'd vote for Victoria over Donny in a F2 and that he'd put Donny in a choke hold if they're in the Jury house together.

2:00 AM BBT – HGs discussing what might happen if Victoria has to leave due to her tooth. They think that'd be good for them if she just left and was out of the game.

2:10 AM BBT – Christine saying how much she hates Donny on a personal level and considers him evil. Caleb counters that Donny has played well and won comps.

3:00 AM BBT – Christine, continuing her hate session about Donny, says she's excited to leave a very nasty goodbye message. She's relieved that the returning player angle is over so they don't have to hold back in their goodbye messages. I'm not sure if Christine understands how a Jury Vote works.
I guess the HGs get pretty bored in there, but burning that energy by being so nasty seems like a waste of energy. Maybe Christine will feel better once she gets to Jury. As for Cody's considerations to renom'ing Frankie, I'd be shocked if it gets too far, but we shall see!
You can watch all of these Big Brother 16 events using the archives flashback, the DVR-like feature of this year's Live Feeds which means it's always live, even when you missed it! Sign-up now to get the free trial to watch it all live & uncensored.
click images to see full-size