With Cody at the helm and Derrick holding the reins, many Big Brother fans are expecting a mild week, but what's this? Cody is considering a Frankie renom scenario? Let's see how far Derrick lets that ride.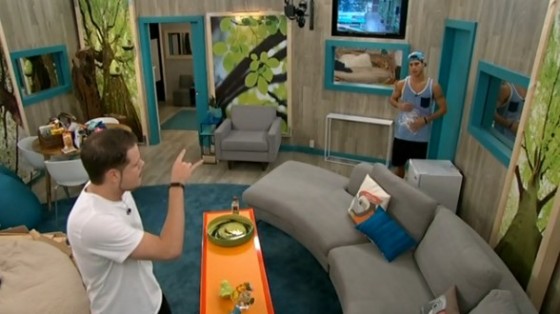 Flashback to 8:21PM BBT 8/22 Cams 1/2 on your Live Feeds. Get the Free Trial now to watch along.
Here we've got Cody in the HoH room and Derrick joining him to discuss an idea. What if, Cody proposes, he puts up Frankie should Donny come down with the Power of Veto? "Ohh, you're talking big boy moves!" says Derrick. Heh.
Derrick lets that linger for a few seconds before telling Cody it's a bad idea. Derrick agrees that yes, he could get Frankie out this week, but should he? No, says Derrick. He tells Cody it's too risky for them to keep Donny and Nicole alive in the game and able to work together.
Derrick relays his earlier conversation with Donny (Flashback to around 7:54PM BBT that same evening.) to highlight Donny still has his game in the head and hasn't given up.
Cody concedes that he'd be happy for Donny to go this week and he thinks it'd keep their alliance happy. But once that's over, Cody says, he's ready to turn on his own alliance and start going after them. He would have nominated Frankie and Donny had no one returned, but with Nicole there he had to use her. Great, thanks, Big Brother.
Derrick and Cody agree that Christine and Frankie need to be split up, but Derrick's efforts to punt the evict-Frankie idea seems to have worked. Cody starts rationalizing why he can't target Frankie this week. He says if he sent Frankie home then Caleb could be upset at him and target him using Christine to help make revenge happen. I think Christine would side with her cuddlebuddy, but he doesn't seem so sure of that.
Derrick summarizes Cody's new plan for him. Spoon fed strategy. Derrick says either Donny or Nicole goes this week with the other right behind, "barring any setbacks." Though should any setbacks occur, Derrick says the plan should be to renom Frankie or Christine and split that duo up. (I say it'd probably be Christine since Derrick knows she's in Cody's pocket.)
It'll take not only Donny winning the Veto but for the group to decide that evicting Frankie is there best move over sending Nicole right back to Jury and leaving Donny & Nicole there to fight together with one less in the guys alliance and another sitting on the bench in the next HoH comp. Yeah, not going to happen.
What do you think Cody should do? Better yet, what do you think Derrick should tell Cody to do?