One down and two to go on Big Brother 16. The Final HoH competitions are underway with Round 1 having been completed on Wednesday night and now that winner awaits who will take it in Round 2.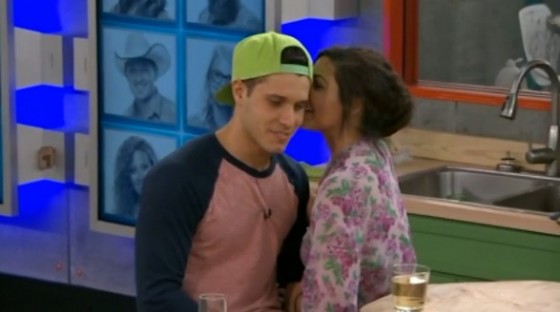 If you're getting caught up on what's happened so far, be sure to check out the HoH Round 1 spoilers and if you need details on how these rounds work I've got that spelled out here.
Next up in Round 2 the two players who dropped out of the hang gliding themed endurance comp will face off in a competition that we expect to feature memory recall of the entire season with a strong physical challenge behind it. These are typically not easy comps and the added-in physical element is enough to get your heart pumping and up the stress factor.
Looking back over last season's schedule of events, the second HoH round was held two nights after the F4 eviction show. That worked out to a Saturday night last season, but would be a Friday night this time around. While we don't know for sure if it'll be tonight or tomorrow, I would be ready to keep an eye out tonight for the spoilers just in case. Here's what BB15's Round 2 looked like:
click images to see full-size view
Derrick will be up against Victoria in this round and my goodness, is there any doubt here? Well, maybe something is going on. Derrick immediately started setting the stage for a R2 loss after R1 when he told Cody to not be mad if he lost in the next round. Seriously. Cody didn't take that well and went off. Oh, he was alone and talking to himself, but I think we might have to count that by Cody standards.
Later on Wednesday night Victoria suggested Derrick throw R2 to her, but he said no. Derrick suggested he had a better chance at winning against Cody in R3 with the suggestion being that he'd take her along. That's an entirely separate discussion on its own though.
Last night Derrick and Victoria again discussed throwing it, but this time it was with her taking a fall. I suspect Victoria would do it, but come on, Derrick! Victoria maxed out her 17 minutes in the mash-up challenge while you took a third of the time. She did get second in the soccer Veto comp which is good and she won a BotB, but that's been it, right? I don't see the issue here for Derrick.
Will Derrick throw Round 2 to Victoria? I really don't think he will nor do I think he could. What if they both maxed out their times?? What if Derrick somehow managed to take 35 minutes to organize the next comp's answers and Victoria took 34 mins, don't we think Cody would notice and get pissed?
This isn't the time to be screwing around or making bold Boogie-esque F3 comp moves. (If you haven't seen BB7 All-Stars, that clip is definitely worth watching. Yes, he won it all after that move.)
Derrick needs to win this and keep Cody's confidence in him strong. Shaking that bond now could get Cody thinking of an alternative F2 that I don't believe Cody wants, even if it means he would lose.
What do you think will happen? Will Derrick throw the comp or handily beat out Victoria? HGs didn't keep her around all reason for nothing. Now it's time to see if it was a smart gamble.
We'll have the spoilers for you as soon as the comp happens, so keep checking in for updates.