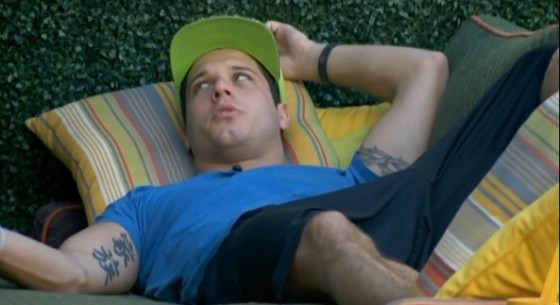 A very sleepy day for the Houseguests after a late night of anxious energy following the Power of Veto competition. HGs didn't get up for the day until well in to the afternoon but there was soon plotting and planning for not just this upcoming eviction but the one to follow. Good thing too as they don't know there will be back to back evictions on Tuesday and Wednesday.
Find out what else happened on the Big Brother Feeds in the house yesterday.
Big Brother 16 Live Feed Highlights – Saturday, September 13, 2014:
12:00 PM BBT – Houseguests are all still sleeping.

2:30 PM BBT – Derrick is vertical. Checks why the sliding door is locked. Cam flips to backyard and shows an uninhabited space, yet it remains on lockdown.

3:05 PM BBT – Cody tells Derrick he is okay with their new plan and ready to vote Caleb out if he (Caleb) doesn't win the next Veto. (Caleb can not play in HoH, so he is vulnerable.)

4:40 PM BBT – Caleb tells Derrick he has thought about it and the best thing for them is to go to F2 together instead of with Cody.

4:45 PM BBT – Derrick tells Caleb about last season of Survivor where Woo went for an honorable win with Tony instead of an easy win with Kass and it cost Woo a million dollars. Sounds like Derrick is trying to set the stage for a back up plan in case he can't get Caleb out next round.

5:40 PM BBT – Caleb asking when they should tell Frankie. He wants to wait until immediately before the vote and after Frankie gets to do his plea speech. Cody and Derrick want to tell Frankie the night before.

6:40 PM BBT – Frankie tells Derrick that he'll go against Caleb going forward and that he told Cody the same.

7:35 PM BBT – Frankie says he hopes he walks out the BB door to find his mom and a manager. Says his family knows all the top managers, but no one would take him since he hasn't accomplished anything.

8:15 PM BBT – Frankie camera talks saying he's not done in the game yet and still has some tricks to try.

9:20 PM BBT – HGs sitting down for a group dinner.

9:30 PM BBT – Cody asking which cameras might be used for the Live Feeds. Derrick explains "all of them." Cody is shocked and surprised that cameras would follow your activity. (Seriously? After nearly 3 months, Cody?)

10:18 PM BBT – Frankie practices his Veto speech (or possibly his eviction speech) alone in the bathroom.

12:00 AM BBT- Derrick and Victoria meet up in the Fire room for a whisper strategy session. They discuss Jury. Victoria talks about how much she dislikes Cody. Derrick says if he wins then he'll have another kid since they could afford it.

1:00 AM BBT – HGs hanging out in the backyard discussing how empty and quiet the house is at F5.

1:49 AM BBT – Frankie alone in the HoH bathroom says he expects to go home this week as it'd be their best move and no reason to keep him.

1:56 AM BBT – Caleb arrives in the HoH. Frankie starts working on him. Asks Caleb if he wants him to be evicted this week. Caleb denies, but says he has no say so in it this week.

2:00 AM BBT – Frankie continues to work on Caleb. Tells Caleb there were two occasions when HGs wanted to BD him, but Frankie wouldn't let them. Caleb asks who it was, but Frankie won't say.

2:10 AM BBT – Caleb tells Frankie that three people have been loyal to him all game, but two of them never told others to put him up. Caleb is referencing when Frankie told Christine & Nicole to nominate any and all of the guys she could.

2:20 AM BBT – Frankie says Derrick & Cody are trying to pit them against one another. Caleb doesn't see it and denies that being the case. Frankie warns Caleb about how well Derrick is playing, but Caleb doesn't see that either.

2:28 AM BBT – Frankie says "the world would be pissed" if he were blindsided and evicted this week.

2:30 AM BBT – Caleb rattling off all the Jury votes he thinks he has, similar to his conversation the day before, but Frankie tries to correct his expectations.

2:40 AM BBT – Frankie suggests they should have gone after Derrick this week and that they should try to flip Cody.

2:50 AM BBT – Caleb promises Frankie he will not blindside him.

2:55 AM BBT – Frankie says he wants his sister to help him win AFP, but then says he doesn't want to win because of his sister. Go figure that logic.

3:15 AM BBT – Caleb says he'll grab Amber and kiss her on the finale stage.

3:25 AM BBT – Frankie goes to Derrick and says he asked Caleb if they were trying to get him out this week. He says Caleb told him no, but he's not sure he trusts that.

4:00 AM BBT – Shaving cream fight between Cody and Victoria. It ends with Cody having to go wash his sheets as the other HGs have gone to sleep for the night.
Frankie might think he still has a shot at evading eviction by working on Caleb, but he doesn't. It's so locked down that no one is even discussing it anymore and they've all moved on to the next eviction target. Cody and Derrick want Caleb gone and with just one Veto comp in the way they have a solid shot at making it happen.
You can watch all of these Big Brother 16 events using the archives flashback, the DVR-like feature of this year's Live Feeds which means it's always live, even when you missed it! Sign-up now to get the free trial to watch it all live & uncensored.
click images to see full-size