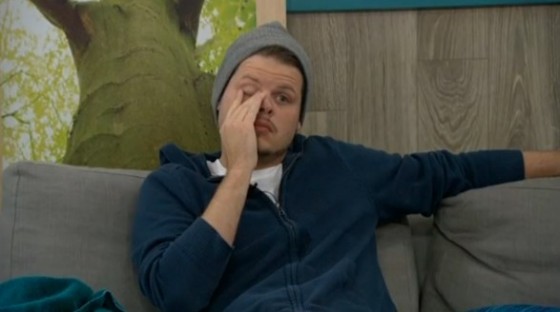 The Power of Veto day arrived with so much potential and promise but things fell apart and went downhill from there. Just as we had seen for much of the season there was big talk but no big walk and now we're set for the rest of the week. At least we're going to get a Double Eviction!
Find out what else happened on the Big Brother Feeds in the house today.
Big Brother 16 Live Feed Highlights – Monday, September 1, 2014:
6:30 AM BBT – Victoria is still up and wandering around the house. She never went to sleep. Feeling anxious about the Veto Ceremony.

9:45 AM BBT – The women are all awake as the guys continue to sleep. So much for the plan to reconvene in the morning and go back through the BD Frankie situation.

10:35 AM BBT – Caleb wakes up Derrick and tells him they have less than 30 minutes until the Veto meeting. He informs Derrick that he will not BD Frankie & they had a talk which makes him feel better about keeping Frankie this week.

10:50 AM BBT – Frankie and Caleb talking alone in the HoH room. Caleb is talking way, way too much and revealing a LOT of information with little gain. Caleb tells Frankie he was considering BD'ing him and that this week would be the time to do it since Frankie was vulnerable.

11:10 AM BBT – Caleb continues to divulge entirely too much information. He has basically warned Frankie that he was close to BD'ing but not to worry about it.

11:15 AM BBT – Derrick arrives in the HoH room. Caleb lets Derrick know that Victoria is going up. No major discussions and then Feeds cut to Fish for the Veto meeting.

12:05 PM BBT – Veto Ceremony is over. Christine saved herself. Victoria has been renom'd.

12:20 PM BBT – Victoria and Nicole sitting in the Fire room and discuss what a missed opportunity this was for Caleb.

12:30 PM BBT – Nicole warns Victoria that she must nominate Cody and Christine together if she gets HoH.

12:35 PM BBT – Derrick and Frankie talk about what Caleb told him regarding the BD plan. Frankie tells Derrick he's not upset and he has put it past him.

12:39 PM BBT – Nicole talking about how Caleb's decision makes no sense. She says he's never even seen the show before, clearly. Nicole tells Derrick it was a perfect opportunity to get Frankie out. Derrick tells her he tried.

12:45 PM BBT – Nicole telling Victoria not to drop if the next HOH is endurance. She tells her that she has to win and she has to put up Christine and Cody.

1:18 PM BBT – Derrick is covering his back nicely with Frankie, telling him after the message they received from America by not saving Donny, he's not doing anything to upset America (as if America would care if Frankie went home). Frankie tells Derrick he was worried for his game because Caleb practically told him he was nearly renom'd.

3:14 PM BBT – Christine and Derrick are talking about the possibility of Frankie winning Big Brother 16. Christine says she'd rather lose to anyone but Frankie.

5:00 PM BBT – Victoria tells Nicole that she's not happy how close Derrick and Cody are. She said if she wins HOH she's putting Cody up to break that duo up.

6:24 PM BBT – HGs talking about who will be America's Favorite Player yet again. And again, they've got it all wrong.

6:48 PM BBT – Cody tells Derrick that he wants Caleb out before Christine. Derrick tells Cody that he doesn't really like Christine.

7:10 PM BBT – Derrick and Cody say that Caleb decided not to backdoor Frankie because he was afraid it would mess up his music career chances (can't make this stuff up).

7:12 PM BBT – Derrick and Frankie now talking about Caleb's almost-backdoor plan. Derrick tells him he did not know about it last night.

7:30 PM BBT – Caleb is talking to Derrick about how he thinks Cody might be gay since he prefers to hang out with the girls. Derrick says Frankie thinks Cody is gay.

9:56 PM BBT – Victoria is upset and crying about the thought of Derrick leaving before her. Derrick consoles her.

10:21 PM BBT – Nicole says she doesn't want to see Christine and Cody as the final two. She says her biggest regret in the game was trusting Cody.

10:30 PM BBT – HGs are talking about Zach and how they miss him. Frankie and Derrick say that they know Zach was happy to leave and didn't want to come back in.

11:15 PM BBT – Nothing going on but general chit-chat.

1:30 AM BBT – HGs hanging out in the HoH room just talking about nothing in particular.

1:50 AM BBT – Nicole giving Victoria a pep talk downstairs.

2:20 AM BBT – Derrick joins Nicole and Victoria. They're studying events and dates.

4:00 AM BBT – HGs are out for the night.
Nothing is going to happen now for a few days but everything still feels like it's in a jumble. Caleb came so close to putting up Frankie that he should have done it considering he spilled the plan to Frankie and now everyone knows. Caleb's loyalty may have kept him in the game but his honesty could be what sends him home.
You can watch all of these Big Brother 16 events using the archives flashback, the DVR-like feature of this year's Live Feeds which means it's always live, even when you missed it! Sign-up now to get the free trial to watch it all live & uncensored.
click images to see full-size