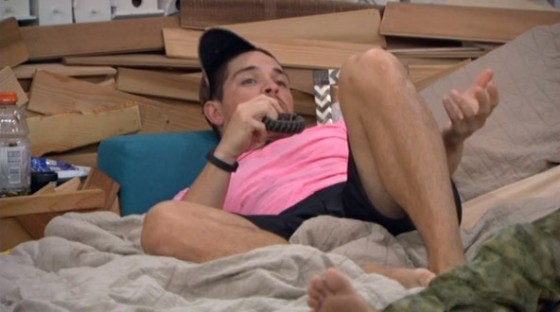 Sunday was a busy day for the Big Brother 16 Live Feeds as there was actually a lot of game talk about making a big move that could actually shake up the game finally. But then Caleb went to the Diary Room and came out with his mind almost completely changed.
There was a lot of talk about what almost might/could/maybe/probably won't happen at Monday's veto ceremony. But with these flip-floppers, anything is possible. Find out what else happened on the Big Brother Feeds in the house yesterday.
Big Brother 16 Live Feed Highlights – Sunday, August 31, 2014:
9:45 AM BBT – Christine and Frankie are the only ones up. Discussions of getting some Advil and going back to bed. Looks like the drinking may have taken its toll.

10:58 AM BBT – Derrick is getting a lot of hollas from production.

12:06 PM BBT – BB asks Victoria if she washed her hands after she used the restroom.

1:45 PM BBT – Victoria is telling Derrick about Christine telling her not to fold Derrick's clothes because he has a preferred way of folding. Victoria says she wants to slap Christine.

2:12 PM BBT – Photobooth is open. HGs start taking photos with the BB selfies.

2:45 PM BBT – Caleb tells Nicole he thinks if he gets to the end he will win the game.

3:20 PM BBT – Caleb mentions putting up Frankie when Christine uses the veto on herself. He tells Derrick that they need to look at who can beat them at competitions at the end. Caleb says Frankie is more likely to beat them than Nicole. He adds that he doesn't trust Frankie as far as he can throw him.

3:30 PM BBT – Frankie backdoor talk continues, but Derrick isn't agreeing with Caleb. He says it's too early for a move like that. He says they at least to talk to Cody about all of this.

3:40 PM BBT – Derrick continues to shut Caleb down, but Caleb is making a strong case that Frankie going is better for his game and Cody's game. He thinks Frankie will come after him and Cody before anyone else because he doesn't seem him wasting an HOH on Victoria and Frankie and Christine are really close.

4:30 PM BBT – HGs just enjoying the weather and the hot tub. No game talk.

5:50 PM BBT – Cody and Derrick are talking about how Cody told Caleb about Frankie and Christine's final two and how he was mad. Derrick tells Cody that Caleb isn't interested in putting Frankie up this week though.

6:30 PM BBT – Caleb and Cody are in the HOH room and start to talk game but Christine comes up. Caleb sees her on her way up and mentions how she won't give them any time alone.

7:30 PM BBT – Caleb tells Derrick he's going to tell Frankie he wants HIS HOH room to himself for a change.

7:33 PM BBT – Caleb tells Derrick that Cody thinks all the same things about Frankie that he does. Derrick still thinks they get Frankie after Nicole.

7:40 PM BBT – More fans are shouting at the backyard. They all go inside and are then locked down. The fans said that Frankie was destroying them in the Diary Room.

8:29 PM BBT – Caleb tells Derrick he heard exactly what the fan shouted about Frankie. Derrick continues to push for Frankie to stay.

8:47 PM BBT – Cody and Caleb decide they really need to talk and decide to lock the HOH door to get privacy. They think Nicole will target CHristine if they send home Frankie. They say they need to talk to her to make sure that's what she does.

8:56 PM BBT – They let Derrick in the HOH room and he pulls out his "Devil's Adovcate" bit about keeping Frankie. He's talking about how close Nicole and Victoria are and says they girls might come after the guys. Cody tells Derrick that Frankie is a bigger threat than Nicole.

9:04 PM BBT – Frankie goes up to the HOH room and breaks up the talk.

9:55 PM BBT – Derrick and Caleb resume their talk. Derrick is still unsure. He says he needs to ask Nicole who she would put up next week before Caleb makes his decision.

10:08 PM BBT – Frankie is back to break up the talk.

10:33 PM BBT – Derrick is now doing that thing where he plants seeds to Victoria that he's working on something to keep her off the block. That means he's conceding to Caleb's backdoor Frankie plan. He asks Victoria who he thinks Nicole would target. Victoria says Cody. She also says she thinks Derrick is working with Cody and Christine. Derrick plays it off and says he likes Cody but that doesn't meant they're working together.

11:10 PM BBT – Caleb and Cody are talking again. Caleb says he is torn because he doesn't want to make a bad decision. Cody thinks they can beat Nicole over Frankie in competitions and also doesn't think she'll work with Christine.

11:17 PM BBT – Frankie pops in again, breaking up their discussion.

12:02 AM BBT – Caleb is acting distant and Frankie notices. He asks what's going on. Caleb plays it off.

12:24 AM BBT – Derrick is doing the same thing to Nicole that he did to Victoria. He's telling her that he's working on something that could keep her. He asks who she'd nominate. She says Christine with Victoria as a pawn. She swears to him that she would not nominate him.

12:36 AM BBT – Frankie tells Caleb that Nicole said Caleb wanted to sit next to Cody in the final two. Frankie asks him if it's true. Caleb just says any of the four of them would be good.

12:37 AM BBT – Nicole has changed who she would nominate to Christine and Cody. Derrick says he'll see what he can do.

12:45 AM BBT – Caleb tells Frankie he currently is comfortable or trusting of anyone not putting him up. Frankie is offended he doesn't even trust him. Caleb said it's getting to the point in the game where someone is going to have to make a move.

12:50 AM BBT – Derrick tells Cody he is officially on board with backdooring Frankie. They talk about what a big move it is and they wish it was happening on their watch. They say that will score Caleb points with the jury.

2:13 AM BBT – Caleb is still torn on what to do and Derrick isn't pushing one way or the other. He says he'll probably put Victoria up and they can send Nicole home.

2:45 AM BBT – Cody pushing that Frankie is more dangerous than Nicole but if Caleb is convinced that Frankie will remain loyal then they can keep him.

3:30 AM BBT – Discussion continues with Caleb wavering but Derrick and Cody continue to push for it.

3:55 AM BBT – Derrick suggests that if Caleb puts up Frankie and they change their minds then they could still keep Frankie at that point. Caleb says that's not a good idea and if Frankie goes up then he needs to go home.

4:07 AM BBT – Guys all agree that Frankie should go.

4:15 AM BBT – Cody says they should table it for the night, go to bed, and then reconvene in the morning. Caleb agrees and wants them to come back up when the music plays for one last chance to discuss. Derrick asks if they really need to do that.

4:20 AM BBT – Derrick heads downstairs and updates Victoria who was sitting in the kitchen alone and painting.

4:30 AM BBT – Cody and Caleb settle in for sleep as Caleb continues to waffle. Derrick asks Victoria to wake him up with the music so he can continue to work on the plan with the guys.
A backdoor plan is in full swing here and still looks uncertain as Caleb worries about the consequences. Once we've got Derrick on board here then they just need to get behind Caleb and push. Let's see what happens in the morning.
So it looks like we'll just have more of the same this week and Big Brother 16 will continue to more of the same. You can watch all of these Big Brother 16 events using the archives flashback, the DVR-like feature of this year's Live Feeds which means it's always live, even when you missed it! Sign-up now to get the free trial to watch it all live & uncensored.
click images to see full-size