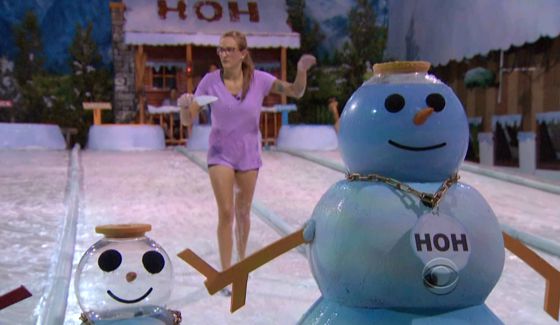 I feel like I'm writing the same Big Brother 16 recap over and over and over. Do you guys feel like you're watching the same episode over and over and over? All summer long, Big Brother 16 has just been more of the same. And this week is no different.
The episode picks up in the middle of the slippery Head of Household competition. But we get a flashback to just before last week's eviction where Frankie is begging the other housguests to keep Donny over Nicole. But I'm not sure what the point in this footage is because it didn't happen. We also get footage of Nicole finding out what Frankie was trying to do.
Apparently this was all to build suspense for us. You know, get us thinking that maybe Nicole might just win this HOH. But that's not what happens at all and Big Brother has wasted our time once again. In the end, Caleb fills up his snowman first and wins Head of Household. He's not feeling too well after it (and neither is anyone else), but he's got the key this week.
It's time for Frankie and Derrick to talk about how America didn't vote for them and for Frankie to work his magic on the non-Live Feed watchers by looking into the camera and telling America he does not care what we think. So there you go, non-Feed watchers, there's a look at the Frankie a majority of fans have been watching all summer. He doesn't care that you liked Donny. He only cares about himself.
And the Frankie crap carries over to the rest of the people in the house. Frankie gets upset when BB tells Nicole to put her microphone on and says she's talking game. Christine says maybe she's not talking game. So Frankie then goes on on Christine for defending Nicole when that's not what she was doing at all. It's nice to see Frankie's true colors coming out in the TV edit.
But Frankie isn't the only one over Christine. Victoria is annoyed by Christine finding everything funny. She says that Christine's giggles are fake and that she laughs 24/7. So we get a very annoying montage of her laughter.
Nicole gets to work on Caleb. She tells him that she doesn't have anyone in the game, so she is free to offer her complete loyalty to him. She tells him she doesn't understand why she's such a target. He tells that she's good at the game and has won the most competitions. She reminds him of his strong record too and says they'd make a great team. Nicole doesn't get anywhere because Frankie made sure to let everyone know that Nicole gave Christine advice in the HOH competition. Sorry, Nicole, there's not changing the minds of this group of HGs. Not this summer.
As if Christine's giggle segment wasn't annoying enough, we get one on Derrick's latest punishment. He won the $5,000 and 5,000 "hollas" for the rest of the summer. Yay for the most annoying episode of the entire season.
It's Have-Not time. Which I think is the first time we've seen it on the episodes this season. Derrick volunteers to be a have-not to try to off-set his $5K win. And since no one volunteers, Caleb picks NIcole. And that's her second week in a row. So it leaves her in tears and Frankie again gets what he wants (it was his idea even though he's only been a have-not once).
So Nicole is obviously going up on the block, but who is going up next to her? Christine is the one everyone is looking at, but Cody needs to keep her off the block because she'll never come after him. So Cody tries to work Caleb and even suggests Frankie, but we all know that only Derrick has any control in the house. So even though Frankie going up would be sweet, sweet television, it doesn't happen.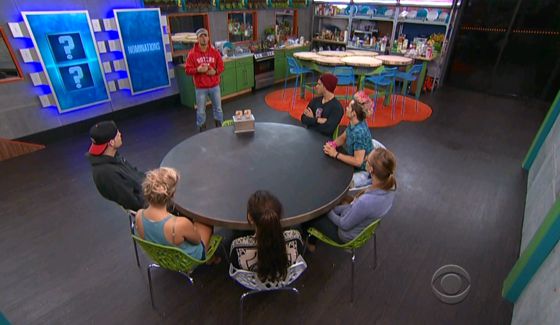 At the nomination ceremony, Caleb goes with Nicole and Christine as nominees.