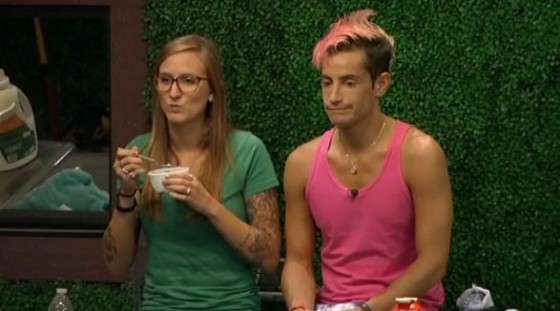 It was a typical Sunday in the Big Brother 16 house. No comps, no meetings, just HGs chatting, plotting and scheming. Oh, and there was some more yelling from fans outside the Big Brother back yard. Find out what else happened on the Big Brother Feeds in the house yesterday.
Big Brother 16 Live Feed Highlights – Sunday, August 24, 2014:
10:30 AM BBT – Donny is up and getting the day going. Rest of the house is sleeping.

11:30 AM BBT – Still just Donny hanging around in the backyard by himself.

1:30 PM BBT – More HGs getting up and wandering the house and out in the backyard getting some sun.

2:00 PM BBT – Frankie tells Donny about the "Broadway!" play they're putting on tonight. Donny pretends not to know about it.

2:15 PM BBT – Victoria discovers the gas grill was left on overnight. Oops.

3:15 PM BBT – Photo booth is open.

3:30 PM BBT – Donny talks with Nicole that they both expect a 1, 2 eviction punch.

4:15 PM BBT – People are actually talking about good Zach memories.

5:30 PM BBT – Frankie and Derrick say production doesn't seem very impressed with their Team America mission idea.

6:35 PM BBT – Cody, Caleb and Christine are talking around the hammock when another fan yells from outside. The HGs are called inside for a lockdown. Feeds cut.

6:41 PM BBT – Feeds return. Caleb is telling Derrick that the fan called Frankie the saboteur. Apparently HGs also heard something about a cop. But no one has tied that to Derrick.

6:57 PM BBT – Donny and Nicole are talking and feeling very defeated. Donny says he's going but just hopes Nicole can win the next HOH.

7:00 PM BBT – Cody and Caleb are talking about what they heard but either will admit it to each other. Feeds cut again.

8:40 PM BBT – Despite no one wanting to do Frankie's play, he's still getting dressed up as Joey.

8:55 PM BBT – HGs have said they do not want to do Frankie's play and continue to play pool outside instead. Big Brother calls a false lockdown to require HGs to go inside where they'll have little else to do. It's a bullshit move by production to try and force success for Frankie on his plan.

9:05 PM BBT – The play starts. HGs are playing evicted HGs. Frankie is Joey, Donny is Devin, Derrick is Jocasta, Cody is Zach, Nicole is Brittany, Victoria is Amber and Christine is Paola. Caleb, after some protest, plays Hayden.

9:50 PM BBT – Realizing this is all very lame, the start portraying random characters.

10:45 PM BBT – Everyone is hanging out in the HOH room. No game talk going on.

11:35 PM BBT – Christine (of all people) is talking about how Victoria was rubbing Derrick's shoulders in a sexually aggressive way.

11:55 PM BBT – Derrick says that Dan should've won over Ian in Big Brother 14.

12:25 AM BBT – Caleb and Derrick talking game. Caleb says he could put up Cody and Christine at Final 5. Derrick says Christine needs to go before then.

1:00 AM BBT – Cody worries about having helped Frankie study for upcoming competitions by telling him dates and events.

1:40 AM BBT – Cody and Caleb talking about Christine. They don't trust her and want her gone soon. They again reassure each other that F4 should be them plus Derrick and Frankie.

1:45 AM BBT – Caleb says for F3, they should cut Frankie.

2:00 AM BBT – Caleb and Cody worry Christine could decide to try and keep both Nicole and Victoria as an army to come after the guys.

2:15 AM BBT – Caleb tells Frankie they heard yelling over the wall, but says he couldn't understand them. Caleb is hiding the truth from Frankie.

2:45 AM BBT – Cody tells Derrick he heard in the yelling that Frankie and Christine were not to be trusted. Cody does not give credence to the Saboteur part of the yelling. They think Frankie, Caleb, and Christine could be working together.

2:50 AM BBT – Cody again contemplating putting up Frankie with the Veto.

3:00 AM BBT – Derrick walks Cody back from the renom-Frankie plan yet again by asking if he's more comfortable with Nicole & Donny together or Frankie & Christine together.

3:10 AM BBT – Derrick and Cody agree that Donny must go this week followed by Nicole, Christine, Frankie, and then Victoria.
As Cody agrees to make Derrick's eviction wish list his own list we see yet again that Cody is following Derrick's every instruction and playing the game for Derrick. Shame on Cody, but kudos to Derrick.
As you can see until either Donny or Nicole win HOH or they're both gone and the Detonators have to turn on each other, this is about the extent of the excitement. But hang in there! It's going to get better when they do have to start cutting each other.
You can watch all of these Big Brother 16 events using the archives flashback, the DVR-like feature of this year's Live Feeds which means it's always live, even when you missed it! Sign-up now to get the free trial to watch it all live & uncensored.
click images to see full-size