Tonight on the Big Brother Live Feed the BB16 HGs were treated to another round of information from the outside world via nearby shouting that lead to a lockdown. Turns out production didn't get them inside before they heard the message though.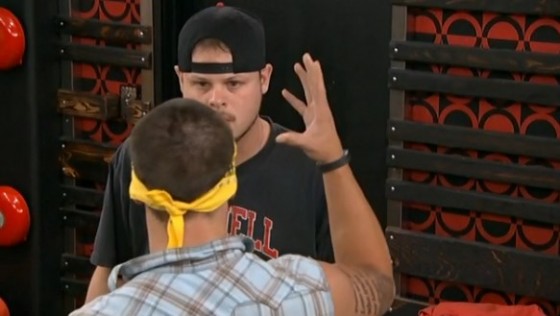 Flashback to 6:35PM BBT Cams 3/4. Get your Free Trial to watch it now. All cams are outside, but Donny is speaking at the critical moments on Cams 1/2. 45 seconds past the minute Cody, Caleb, and Christine pause their conversation and faint yelling can be heard in the background. Cody says to ignore it or they'll be sent inside. Too late.
Big Brother calls for an indoors lockdown and the HGs march inside. Upstairs Cody asks what Caleb heard. Caleb suggested it was a police helicopter with a loudspeaker, but Cody balks at the suggestion. Cody hints that they can't say anything right now. Feeds cut but soon return.
When Feeds return we can find Caleb talking with Derrick in the Fire room at 6:41PM BBT Cams 3/4. Cody tells Derrick they heard "Frankie is the Saboteur!" being yelled by the heckler. Derrick asks about the person saying Frankie was a cop, but Caleb says again they only heard the Saboteur comment.
So why would someone yell about the Saboteur when there's not an actual Saboteur? Because if someone yelled "Frankie is on Team America!" they'd have no idea what he's talking about, but since the Sabo was something they had going in the house the HGs could connect to it.
This latest information-invasion follows a recent event where HGs heard a fan yelling "Frankie, you're a disgusting!" Frankie isn't having much luck with fans near the Big Brother house!
Will this impact their game plans? Hard to tell. But now Caleb is saying the yelling could be from a Donny fan looking to flip the house and keep Donny safe. On the other side of the skepticism, Christine brought up that when she wondered aloud to Frankie about if America voted for someone to be the Saboteur, he told her that he'd be offended if he didn't get voted to that role. Oops, keep your ego mouth shut on that one next time, Frankie. Sheesh.
I'm not a fan of game interference whether it comes from outside the walls by fans yelling or from production screwing with things. I'd always rather see the HGs compete in a vacuum and just play the game, but we rarely get that, do we?
Update: Cody mentioned he heard the yelling included Frankie was the Saboteur, Frankie was not to be trusted, and Christine was not to be trusted. Cody mentions Christine is "s**ting her pants" and she knows he heard. Cody & Derrick discuss this at 3:00AM BBT 8/25 Cams 3/4.
Caleb has shifted more towards Cody and Derrick for a F3 and is in agreement that they would need to get rid of Frankie, but doesn't seem pressed to do that sooner than F4.
When Caleb spoke with Frankie he lied and said they heard yelling, but couldn't make out what was being said.
It's possible that no one will tell Frankie what was heard, but I would have really expected Derrick or Christine to take this info back to him. Perhaps they think it's a better tool for them to keep Frankie in the dark. We'll have to keep watching for more discussions on Monday.