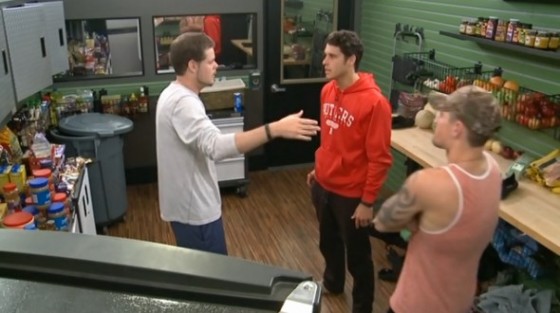 Power of Veto days in the Big Brother 16 house have rarely disappointed this season and we weren't let down this time around either. After a failed Battle of the Block plan two HGs were unexpectedly fighting for their safety while the rest fought to keep those nominations locked down.
Things didn't calm down any afterwards either as a House Meeting was called and the Detonators alliance was revealed yet again. It's fully out now, right? Good grief. Find out what else happened on the Big Brother Feeds last night in the house.
Big Brother 16 Live Feed Highlights – Saturday, August 9, 2014:
9:30 AM BBT – HGs get their wake-up call. Donny is up and about the house.

11:00 AM BBT – Most of the house back to sleep. Christine and Nicole discussing a F4 idea including Derrick & Cody. Nicole warns Christine to distance herself from Frankie or she may get targeted with him.

11:45 AM BBT – Nicole and Christine have been discussing Frankie's "big reveal." Nicole suggests he could get his sister to donate to his charity wants instead of using the game to get it.

1:00 PM BBT – Donny talking with Nicole. He's warning her about Derrick. Donny is not pleased with how Derrick is playing the game. He likes how Cody has done it better.

1:30 PM BBT – Derrick and Frankie are worried how it could look for them to viewers if they vote out their Team America teammate Donny.

3:00 PM BBT – Frankie telling HGs about how he's a huge star because of his YouTube videos. He has a manager. (Frankie makes $500-$1,000 week on YouTube and has a manager?)

4:45 PM BBT – Have-Not food is revealed. It's peanut butter & jelly fish. Christine puts Zach & Donny on HN status.

5:00 PM BBT – Zach & Nicole discuss how suspicious it was that this BotB was suddenly a 1-person competition. They question if it was staged since production knew Caleb was throwing it to keep Frankie on the Block.

8:34 PM BBT – Feeds return from Veto comp. Zach has won! It was the OTEV competition.

8:40 PM BBT – Zankie having a talk in HN. Zach tells Frankie it was like he cheated on him by betraying him. Both discuss if they can trust each other. Sounds like they're mending fences, but it's tough to be sure if they're being honest.

9:10 PM BBT – Frankie asks Zach to not listen to anything that Derrick or Cody tell them anymore.

9:30 PM BBT – Frankie tells Derrick he thinks they should keep Donny. Derrick doesn't think the other guys will want to keep Donny.

10:15 PM BBT – Zach takes Victoria in to Hive and tells her everything. He completely reveals the Detonators. Victoria is shocked & upset that Derrick has been using and playing her. Victoria warns Zach that he can not trust Frankie. Sounds like he might be heeding her advice.

11:00 PM BBT – Victoria goes to Nicole & says she knows all about Detonators and Derrick. She's very upset.

11:20 PM BBT – Nicole telling Cody she knows which five are working together & who is on the outs (all non-Detonators). Cody denies working with Frankie anymore.

11:45 PM BBT – Victoria talking with Zach again. She is still stunned by Derrick revelation. Victoria can't believe she trusted him so much. Says it feels like he cheated on her.

12:05 AM BBT – Nicole gives Cody the heads up that Zach spilled the beans to Victoria. When Cody asks Zach about his talk with Victoria he denies game talk.

12:30 AM BBT – Zach is back at his poetry work. (Take that, Teddy Spanks.) He's trying to romance Victoria. It's very funny.

1:15 AM BBT – Zach told Derrick that Nicole took everything he told her over to Victoria. He's trying to cover his tracks. It won't work.

1:20 AM BBT – Zach gives up and confirms to Cody that it was him who told Victoria.

1:35 AM BBT – Derrick talking with Cody and Caleb about Zach's impact on their game by revealing so much information. He's very concerned.

2:00 AM BBT – Christine & Nicole were watching guys talk in living room. They think they were talking game (they were) so Christine tries to crack open the door to listen, but they hear her & know she's suspicious of them.

2:20 AM BBT – Derrick pulls Nicole up to the HoH room to discuss what all Zach has been revealing.

2:45 AM BBT – Derrick calling House Meeting. He's calling out Zach for what he's been saying. Zach is yelling that everyone should just vote him out. Victoria and Zach going at it.

3:55 AM BBT – Derrick talks with Zach & says they want to get Christine to BD Nicole this week. Caleb & Frankie will work on Christine during their trip on Sunday. (Derrick doesn't want to risk losing Victoria.)

5:00 AM BBT – Derrick has Victoria in the Hive to do damage control. He's flipping it on her that she was talking about him behind his back. Dang, like him or not, Derrick is good at this game.
I'll be shocked if they can get Christine to BD Nicole. They might not fully trust each other, but Nicole is better than nothing to Christine and she's got to see that. I'm still expecting a Victoria renom instead, but maybe we'll get a surprise on Monday. Either way, Donny better start working hard to shore up more support.
You can watch all of these Big Brother 16 events using the archives flashback, the DVR-like feature of this year's Live Feeds which means it's always live, even when you missed it! Sign-up now to get the free trial to watch it all live & uncensored.
click images to see full-size