How many times can one alliance get blown up on Big Brother 16? More than I would have expected and it seems to just keep happening. Last night Zach up'd the counter when he took Victoria in to the Hive and exposed The Detonators.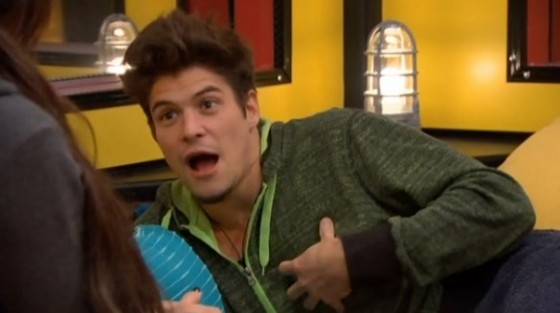 Flashback to 10:13PM BBT 8/9 (get your Free Trial now) to watch as Zach sets off yet another chain of events. He tells Victoria about the Detonators alliance (10:17PM BBT) and how he has deals around the house including a F3 with Derrick and Cody.
Now that Zach has secured his safety this week with the Power of Veto win on Saturday he doesn't seem nearly as worried about tripping over his own tongue.
The news of the Detonators and LTA is of course very upsetting and concerning for Victoria who thought she was tight with Derrick but is now learning that Derrick had a 5-HG alliance without her.
Victoria tells Zach he can't trust Frankie and Zach agrees though he says he spent time trying to get Frankie thinking they were okay.
Zach and Victoria agree that they still trust Derrick and Cody while both want to see Nicole gone. They wrap up their talk and all seems well until Victoria goes sobbing to Nicole.
Flashback to 11:00PM BBT to find Victoria saying this is like she found out Derrick was cheating on her. "He's a piece of s**t!" Victoria says. Victoria is very, very upset despite having been perfectly calm when she was with Zach just a few minutes before.
Is Victoria just putting on a show? Maybe, but what advantage is she gaining here? I'm not sure.
Now Nicole also knows about the Detonators in a different capacity from what was spread last week in the Det's attempt to keep Zach from blowing them up if evicted. Nicole takes that knowledge back to Cody. There's denials and explanations and everything runs around in a circle. Eventually things work their way back to Derrick who goes in to damage control mode. His specialty. I'll have more on that later.
So what do you think of Zach spreading Detonators around even more? Will this help his game?