Friday started out with a bang as several of the remaining HGs didn't go to bed until well after the sun had come up. They were too amp'd from Thursday's events and the revelations through the house of who had been stirring the pot and pitting HGs against one another.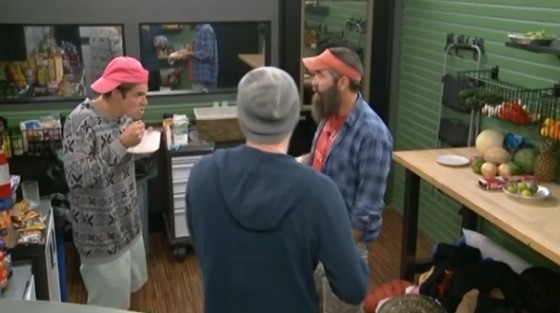 Frankie became public enemy number one and thanks to possibly her temporary safety of HoH, Christine fell right behind him in the chopping line. The nominations were plotted and Nicole turned on Christine in the process while keeping it all a secret. Next up: Battle of the Block. It was a busy, busy day and it just kept getting crazier with some wild BotB results.
Find out what else happened on the Big Brother Feeds last night in the house.
Big Brother 16 Live Feed Highlights – Friday, August 8, 2014:
10:00 AM BBT – Christine and Nicole getting up and ready for the Nominations Ceremony. Nicole floats the idea of putting up Frankie. Previously she said she'd keep that hidden, but was nervous about it.

11:35 AM BBT – Feeds return from Nomination Ceremony. Donny & Zach are up against Caleb & Frankie.

12:15 PM BBT – Zach and Nicole have another "come together" talk. They're trying to work together and trust each other. They agree to target Frankie but Christine is their Plan B.

1:30 PM BBT – HGs lounging around. Everyone is focused on the Battle of the Block. Not much happening.

3:45 PM BBT – Frankie pulls Caleb aside and tries to get him hyped for the competition. Caleb talks about wanting it to be a harnessed competition. Caleb earlier joked about trapping Frankie up there for the duration if it was.

4:20 PM BBT – Zach is upset that Frankie won't leave him alone and is following him around the house. Zach says if Frankie is somewhere, he doesn't want to be there with him.

4:55 PM BBT – Caleb upstairs with Nicole. She's rehashing how Frankie got her to lie about Amber. Caleb is still upset about it. He talks again about how he's going to throw the BotB.

6:25 PM BBT – Caleb warns Zach, if the competition punishes the losers with more Slop then he won't throw the comp afterall.

7:30 PM BBT – Zach telling Donny about Caleb hearing that Frankie blackmailed Nicole in to lying about Amber to get Caleb to support evicting her. Now Caleb is using that as part of his antics in tonight's competition.

9:50 PM BBT – Feeds return from BotB comp. Frankie won the Battle on his own against Donny and Zach. Caleb did not participate.

10:05 PM BBT – Frankie is telling the guys that his sister is super famous. He calls himself a "media mogul." (No, he's a YouTube personality and does well at that, but it does not make you a "media mogul.")

10:10 PM BBT – Frankie says he's playing for charity, not for himself. (This will become a subject of debate through the night.)

10:30 PM BBT – Frankie telling the girls. Victoria knows who she is. Nicole excited that he [has a sister who] is famous.

10:50 PM BBT – Derrick tells Frankie he'll keep working with him for TA.

11:20 PM BBT – Frankie again saying he is playing for charity and he earns $1000 a week from YouTube.

11:45 PM BBT – Cody & Victoria talk about being upset with Frankie. Cody thinks everyone is going to fall to the ground for Frankie. Victoria thinks he's been treating her poorly all season.

12:15 AM BBT – Christine tells Nicole she'll renom Victoria if the Veto is used.

1:00 AM BBT – Nicole is worried about voting out Frankie because he is famous. Cody reiterates that Frankie is not famous. His sister is. He is not.

1:50 AM BBT – Derrick and Nicole wonder if Caleb let Frankie win since winning included a trip outside the house (football game since that was the theme).

2:45 AM BBT – Nicole is very worried about Christine renom'ing her and tells Cody she'll expose her if she does.

4:00 AM BBT – Derrick, Cody, and Nicole all discussing that they won't let Frankie's claims influence their game.
So the whole plan to get out Frankie fell apart and now he's safe for the week along with Christine, the house majority's two main targets. Now the Veto awaits and will decide the two final noms of the week.
You can watch all of these Big Brother 16 events using the archives flashback, the DVR-like feature of this year's Live Feeds which means it's always live, even when you missed it! Sign-up now to get the free trial to watch it all live & uncensored.
click images to see full-size