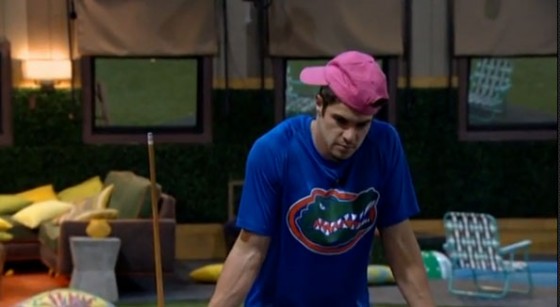 It was an incredibly quiet day in the Big Brother 16 house. The HGs slept late and all the game talk revolved around one thing: sending Zach home this week. Find out what else happened on the Big Brother Feeds yesterday in the house.
Big Brother 16 Live Feed Highlights – Monday, August 4, 2014:
9:31 AM BBT – Feeds out for wake-up call.

9:43 AM BBT – Feeds back. Some HGs moving about. Nicole is in the hot tub.

10:32 AM BBT – Christine practicing her speech. She won't be using the veto today.

11:10 AM BBT – Feeds cut. Veto ceremony time.

11:40 AM BBT – Feeds are back. Christine did not use the veto. It's the first time this season that it wasn't used. It's Zach or Jocasta this week.

12:38 PM BBT – Victoria and Derrick are talking about voting Zach out this week. He then tells her he wants to go to the end with her. Who knows what Derrick is really thinking.

1:24 PM BBT – Victoria is now crying to Jocasta. Sounds like she's still worried about how she is being perceived.

3:40 PM BBT – Hayden tells Donny that Zach has to go home this week. Hayden says only Frankie would be upset if Zach goes.

5:37 PM BBT – Zach talking to himself in the hammock. He says if he stays this week he has to win and there's no other option.

6:20 PM BBT – Victoria is crying yet again.

7:25 PM BBT – Derrick and Frankie are talking in the HOH room. Derrick tells Frankie the vote is split right now (lies). Frankie tells Derrick he knows that he has a final three with Cody and Zach. Derrick asks Frankie if they should keep Zach to help with their Team America missions. Frankie says yes. Derrick says "we'll keep him." More lies.

8:03 PM BBT – Derrick gets to work on Frankie about Zach. Derrick does a good job convincing Frankie that Zach could mess up Frankie's game.

8:50 PM BBT – Derrick tells Nicole that he got Frankie on board to get rid of Zach.

9:18 PM BBT – Frankie and Cody talking about Zach and how they think he's been pitting them against one another.

10:25 PM BBT – HGs having a discussion on relationships. Zach has a lot of funny things to say. Soak it up, Zach fans. He's toast this week.

10:43 PM BBT – Christine and Cody talking about splitting the vote so Zach won't blow up the Detonators on the way out.

11:02 PM BBT – Frankie and Derrick agree to send Zach home. Derrick promises allegiance to Frankie. He says "Team America to the end" even though they both agree they can get Donny, also Team America, out next week.

11:25 PM BBT – Cody is worried Zach will blow up their alliance but Derrick tells him they'll blindside him.

12:25 AM BBT – Zach is reciting his eviction poem again. Derrick tell Christine that he knows Zach won't go out quiet. They're worried about how he'll react.

12:35 AM BBT – Derrick & Christine discuss splitting the vote and having Nicole do the tie-breaker.

2:10 AM BBT – Frankie talks with Cody and lets him know about the split vote idea.

2:45 AM BBT – Zach excitedly discussing F2 with Frankie. Zach thinks they're all set for this week and he's expecting a Double Eviction on Thursday.

3:10 AM BBT – Now Derrick is paranoid about the split vote idea and tells Cody that Haycole could be setting them up.
So it sounds like there's very little hope for Zach this week. It looks like once again Jocasta is going to float on by to safety while another one of America's favorite HGs walk out the door. You can watch all of these Big Brother 16 events using the archives flashback, the DVR-like feature of this year's Live Feeds which means it's always live, even when you missed it! Sign-up now to get the free trial to watch it all live & uncensored.
click images to see full-size