The light at the end of the tunnel continues to dim for Big Brother 16 Houseguest Zach Rance and his former ally Derrick Levasseur isn't doing him any favors as he flips Zach's final ally.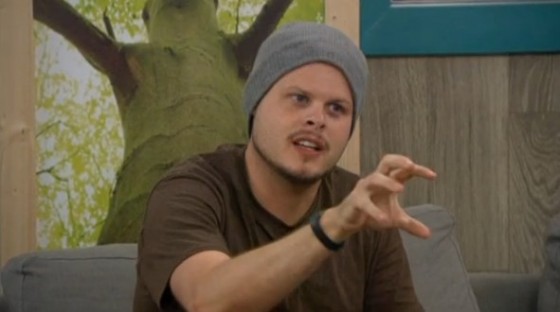 The decision had already come down through the house that Zach Rance would be this week's target for eviction from Big Brother, but as we've seen several times, Derrick has gone along with a plan only to change everyone's mind later. Not this week though.
Frankie remained as the last person to stand behind Frankie with the support and expectation that Jocasta would be going home. No one needs Frankie's vote to evict Zach, but in interest of continuing to work with Frankie Derrick worked to make sure he had Frankie on board.
Flashback to around 7:30PM BBT 8/4 Cams 1/2. Derrick talks with Frankie for awhile and even suggests he agreed that they would keep Zach. Now he starts to work on Frankie and gets Frankie to express concerns about Zach, namely Los Tres Amigos. Zach had previously disclosed that he had a F3 deal with Cody and Derrick. Derrick admits to LTA, but says it was never serious.
Jump forward to 7:55PM BBT. Derrick starts to turn things around on Frankie telling him that from what Frankie is telling him he thinks they might need to get Zach out this week. Derrick is effectively convincing Frankie not only that he should want Zach out, but that it's also his idea.
As for losing a number in the Detonators, Derrick says they can use Caleb in Zach's spot without bringing Caleb in to the Detonators. It'll be a continuation of the Bomb Squad for Caleb while the remaining four Detonators stick together.
Keeping the momentum rolling, Derrick even rolls in that they need to get Donny out next for his decision last week to turn on the Team America mission.
Wrapping things up, Derrick says he'll try to go smooth things over with Cody about LTA and working closely again with Frankie. Heh. Of course we know that Derrick is already very closely working with Cody and is well aware of this whole plan, but Frankie doesn't know that.
Derrick continues to control the Big Brother 16 house as the rest of the HGs just play right along.