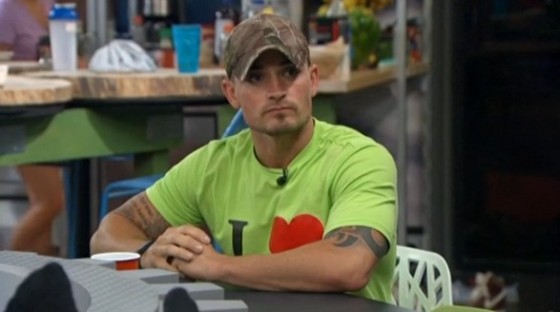 After a wild ride on Friday the Big Brother 16 cast prepared for a very important day for the Power of Veto competition. The house has started to divide and this would set up some important decisions for later in the week. Find out what else happened on the Big Brother feeds yesterday.
Big Brother 16 Live Feed Highlights – Saturday, August 2, 2014:
9:45 AM BBT – HGs waking up.

10:45 AM BBT – Frankie and Christine talking game. They've got their eyes on Derrick and especially Donny. They think Donny is a genius because he won the spelling contest and uses words like "osmosis" and "diluted." Frankie says Donny's "Harvard Medical" t-shirt was intended to be an ironic disguise but he never feel for it like the other HGs did.

11:42 AM BBT – Feeds return from picking the Veto players. Caleb, Christine, and Victoria were picked to play. Frankie will host.

12:35 PM BBT – Frankie talking with Nicole. He doesn't think any of the picked players would use it or go against what Nicole wants.

1:45 PM BBT – Feeds return from a short break and we find the Have-Not food for the week: Pea Lime Pie. Nicole has to pick 3 HGs for the week and goes with Frankie, Cody, and Hayden. Frankie says production will have to give him a sleeping bag.

1:55 PM BBT – Camera zooms in on Caleb napping with a hat marked with "Amber" under the brim.

2:00 PM BBT – Frankie said he would sleep the rest of the season in the HN room for $10K. Seems the cold isn't a life threatening concern when there's cash involved.

2:15 PM BBT – Quad Squad meeting. Nicole telling Cody that she thinks Christine & Frankie were pushing for him to go up on the block to make sure Zach went home, but she thinks it was a trick so Cody or Derrick would go home instead.

2:45 PM BBT – Quad Squad renames its alliance as "The Rationale."

4:00 PM BBT – Derrick talks with Cody about Nicole. He doesn't trust her and says she's definitely working with Hayden and possibly Donny. Derrick says it's too early to send out Frankie and they need to keep him if he gets nominated.

4:55 PM BBT – Derrick working on Christine that they need to send Jocasta home this week if she stays on the block to keep their numbers advantage.

5:10 PM BBT – Feeds cut for the Veto competition.

9:00 PM BBT – BBAD begins but Feeds are still on Loops. Donny, Derrick, Cody, & Hayden are stuck in the HoH room napping and chatting. It's a time Veto comp with individual performances so it's taking forever. During BBAD we can heard audio bleed from the competition. Zach is yelling that he's missing a puzzle piece. (He wasn't.) Lots of frustration and yelling from Zach.

10:25 PM BBT – Feeds finally return nearly 90 minutes after BBAD was airing footage from inside the house. What bullshit.

10:26 PM BBT – Christine has won the Power of Veto. Everyone is very animated and describing the competition. There were comics featuring the HGs and a trampoline and zip line. Sounds like last year's Veto comp.

10:40 PM BBT – Christine beat Nicole by just thirty seconds in the competition.

11:15 PM BBT – Zach talking with Cody and Derrick. They want him to go tell Nicole she's not his target so they can try to save him.

11:30 PM BBT – Derrick and Cody talking game. Derrick wants to keep Zach. Cody wants to expose Frankie but Derrick pushes him to hold off. Cody's not going to do that anyway.

11:45 PM BBT – Christine says she won't be using the Veto.

3:15 AM BBT – Hayden wants Zach gone this week.

3:20 AM BBT – Derrick thinks Christine will try to keep Zach here.

4:00 AM BBT – Derrick talking game with Nicole. He doesn't think Christine will use the Veto. Nicole wants Zach gone because he keeps saying she is his target.

4:10 AM BBT – Zach talking with Christine. He thinks it'll be a 8-0 vote on Tursday.
Things really do not look good for Zach and he seems to have no idea of what's going on. The house has fractured around him and he's at risk of falling through the cracks. You can thank Team America for nudging him in to this situation as a result of his outburst speech to Christine and Nicole last week.
You can watch all of these Big Brother 16 events using the archives flashback, the DVR-like feature of this year's Live Feeds which means it's always live, even when you missed it! Sign-up now to get the free trial to watch it all live & uncensored.
click images to see full-size