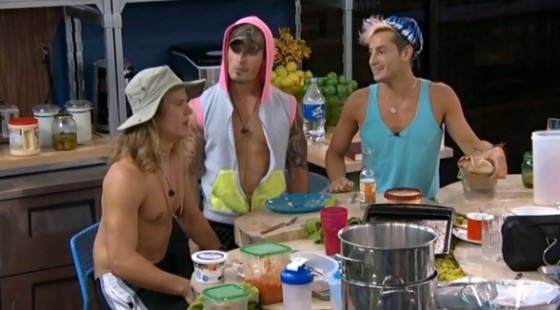 The Big Brother 16 houseguests day started late as most of them were up all night the nigh before. But by later afternoon, they were abuzz from videos that popped up on the memory wall and talk of what's happening at tonight's live eviction and beyond. Find out what else happened on the Big Brother Feeds so far today in the house.
Big Brother 16 Live Feed Highlights – Wednesday, July 30, 2014:
8:25 AM BBT – Hayden and Cody are still up. They're talking about getting Frankie out in the double eviction if it's possible.

8:58 AM BBT – Donny is awake. He chats with Cody and then Cody finally goes to bed.

9:02 AM BBT – Christine is up now talking to Donny. Hayden is still awake.

9:30 AM BBT – Donny exercising. Christine has gone back to bed.

10:25 AM BBT – Jocasta and Amber are up now. Everyone awake seems to be outside. Amber is sunbathing.

11:15 AM BBT – Donny and Jocasta talking about Caleb and how it's sad that he's 26 but doesn't realize Amber wants nothing to do with him.

11:35 PM BBT – Jocasta still on Caleb. She said you can tell Amber doesn't even want to hug him. She says she knows some people come on Big Brother wanting to be the next Brenchel, but it has to be more than one-sided.

2:00 PM BBT – Jocasta says to herself that she'd nominate Frankie and Zach with Frankie being the target.

3:25 PM BBT – Zach and Cody talking about how they're carrying Christine.

3:50 PM BBT – The memory walls changes to words that read "HOH: Time to get Loopy." Donny notices shortly after. All the HGs gather around and start speculating what it means.

3:56 PM BBT – The screens turn to multiple picture in picture screens. They're clips of the HGs in other competition, etc. playing on a loop. The HGs start watching and studying the clips.

4:45 PM BBT – Zach is done watching the screens. He's sleeping.

4:51 PM BBT – Frankie goes to get Zach to study more. He tells him he needs to win that HOH.

5:08 PM BBT – Videos stop. HGs go about their business.

5:40 PM BBT – Hayden is telling Donny that Frankie needs to go next. He says Caleb isn't a threat like Frankie is.

5:57 PM BBT – Zach, Frankie and Christine talk about the order they want people out.

6:05 PM BBT – Christine tells Frankie and Zach that she thinks she heard Hayden and Victoria making out one night.

7:24 PM BBT – Now Derrick is telling Cody that he doesn't think it's a good idea to go after Caleb next. Cody tells him about Hayden's thoughts on backdooring Frankie during a double eviction.

7:25 PM BBT – Frankie comes in, so they change the subject to Caleb. Talk then goes to Hayden being capable of building a group against them.

7:38 PM BBT – Cody shares his concerns with Zach. They talk about targeting Hayden within the next three evictions before he can rally others against them. They still think Jocasta should go next though.

7:57 PM BBT – The HGs are convinced tomorrow is a double eviction. Caleb wants to throw the first one, but Derrick is trying to talk him out of it. Caleb is back in now for a number, so the plan is no longer to get him out after Amber (for now).

8:30 PM BBT – Caleb is now totally on board with evicting Amber. Only she doesn't know at this point.

9:35 PM BBT – HGs still talking about this week being a double eviction.

10:26 PM BBT – Victoria is crying because she looked bad in those videos they got to watch today. She thinks she's fat.

10:56 PM BBT – Caleb reveals he got to tape another goodbye message to Amber, so we probably won't see the one where he admitted to "bawling."

11:05 PM BBT – Cody, Frankie and Zach are talking about who to be worried about in their alliance. Cody is most worried about Frankie. They tell Zach to watch what he says around Frankie because he can't be trusted and is working with everyone in the house.

12:00 AM BBT – Zach tells Frankie  that people in the house are threatened by him. Frankie presses to know who said it. Frankie thinks it's Derrick and Cody, but Zach is actually covering for them.

12:16 AM BBT – Frankie asks Zach to help him protect Christine because he would feel more vulnerable with her gone. Frankie says he wants to be in the final two with Zach but if something goes wrong with there, he needs a backup plan.

1:25 AM BBT – Derrick relaying Team America's mission. They must throw two rogue votes in the mix and blame them on someone else.

1:35 AM BBT – Derrick wakes up Donny and tells him the mission. Donny doesn't want to do it. Derrick thinks they could blame Caleb and Zach.

1:45 AM BBT – Meanwhile, Hayden and Nicole wonder if Christine would throw a vote to Amber to create confusion.

2:10 AM BBT – Donny meets with Frankie and Derrick to discuss the mission. Donny thinks this could expose them and believes it would be too out of character for him to start accusing other HGs.

2:25 AM BBT – Derrick and Frankie discussing what to do about Donny wanting to refuse the mission. Frankie thinks it's time to send Donny home.
It looks like Amber will be heading home tonight, and as usual this season, there was virtually no campaigning going on the night before eviction.  You can watch all of these Big Brother 16 events using the archives flashback, the DVR-like feature of this year's Live Feeds which means it's always live, even when you missed it! Sign-up now to get the free trial to watch it all live & uncensored.
click images to see full-size