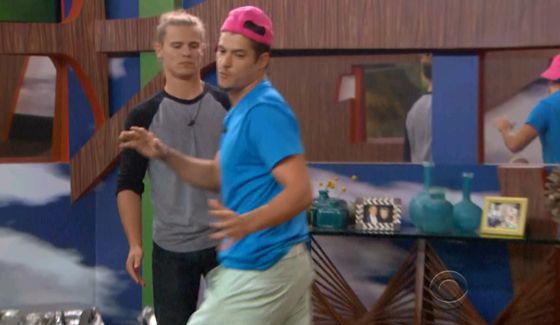 Big Brother 16 won't give up on two things: convincing us there are showmances in the house and that Zach is a bad guy. So we got a lot of that on Wednesday night's episode and if you're a Live Feed watcher, you know what's true and what's not. So I'll just leave it at that.
The episode picks up right after the Battle of the Block competition. Zach is dethroned as HOH and Frankie is ready to set his backdoor Amber plan in action.
Christine and Nicole are celebrating their BOTB win and Victoria is in tears and blaming Jocasta for their loss. Even though we all saw that Victoria was a mess during that competition.
And then we get the "Zach might be a villain" edit that only the television viewers at home will buy. But on the other hand, Frankie decides to talk to Zach to get him to calm down so people won't be asking him to backdoor Zach. But Frankie still needs Team America's mission accomplished, so never mind. Scratch that. Let's get him to blow up at the veto meeting. And Zach agrees to do just that.
After a weird bit on Hayden, Nicole and Victoria, aka the worst love triangle in the history of love, Derrick gets a letter very similar to Frankie's letter. His grandfather has also passed and his family also insists he remain in the game.
But now back to horrible showmances. Lets check in on Amber and Caleb. He still thinks they had a great date. She still thinks it was awful and wants nothing to do with him. He is finally picking up on that after a nice silent treatment. That's followed up by a Zankie segment, which actually could have more legs than Camber or whatever you want to call Caleb and Amber.
We see Zach offer Frankie a back rub, followed by a few "I love yous" and pecks. And that's that. Is Zankie really a thing? Check out the Live Feeds to find out.
It's time to pick players for the veto competition. Joining Frankie, Victoria and Jocasta are Hayden, Donny and Christine.
But it's time for more Caleb and Amber drama. Amber is getting under his skin by just existing and he promises us "no more romantic cowboy in this house." We'll see about that, Caleb.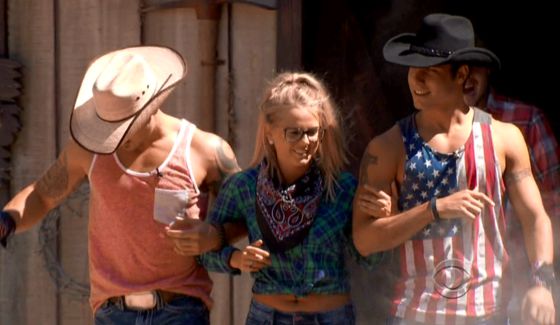 Luckily we get to move on to the Veto Competition. Let me see if I can explain this competition. The players have to get on a fake horse and um, ride it for 60 thrusts at a time. They then get 30 seconds on a clock and have to run to stack some gold bars before the 30 seconds run out. Then they have to go back to the horse and repeat until they have 60 gold bars stacked. That person wins the POV.
Hayden wins the Power of Veto and the let's back door Amber talk begins. Hayden plans to use the POV on Victoria and Frankie will nominate Amber after he talks to Caleb about it. Luckily for Frankie, Zach takes of that for him. Zach decides to make Caleb think it's his idea to put Amber on the block this week.
Caleb doesn't plan to evict Amber, but wants to scare her. But he doesn't know that everyone else's plan is to evict her. Like Zach said, that was too easy.
It's time for my least favorite part of this season: Team America. They get one more shot to mess up Zach's game by convincing him to blow up at Amber at the veto meeting. And that's what happens. Hayden vetoes Victoria, Frankie puts Amber on the block and Zach goes off on Amber. I'd talk more about that if it were an actual fight and wasn't staged for this horrible Team America mission unbeknownst to Zach.
The good  news is, the Team America mission failed. HAHAHHAHAHAHA.
So the final nominees are Jocasta and Amber.