After Saturday night's craziness with Joey learning the Big Brother ropes I wasn't sure what they'd have left in them for Sunday. Luckily the Veto Ceremony arrived early and kept the HGs on their toes for what comes next on Big Brother 16.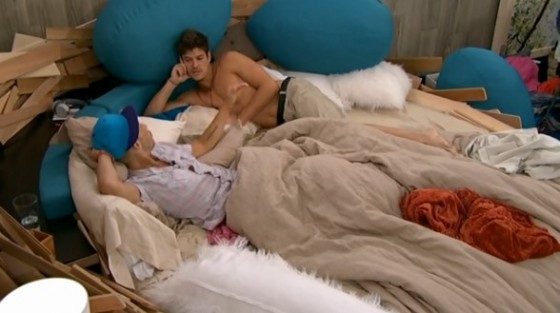 Houseguests were up early, well early when you consider they went to bed just a few hours earlier, and put on their game faces as the Veto winner had a big, but easy choice to make. From there the final nominees this week set off on securing votes and their safety.
Find out the highlights from overnight on the Big Brother Live Feeds and get caught up on where the house is headed next. Looks like we've got a week of sneakiness ahead.
Big Brother 16 Live Feed Highlights – Sunday, June 29, 2014:
9:40AM BBT – HGs getting their wake up call.

10:25 AM BBT – HGs are getting ready. Veto ceremony is shortly, they're saying.

11:15 AM BBT – Feeds are down. Veto ceremony under way.

12:10 PM BBT – Feeds return. Donny used the veto on himself. Joey is the replacement nominee.

12:15 PM BBT – Brittany tells Paola that she should be safe now that Joey is nominated beside her. Paola tells Brittany she'll help her get Devin out.

12:25 PM BBT – Frankie and Zach in the HOH room talking about Devin and Brittany. Both are concerned with Devin's mental stability.

12:30 PM BBT – Devin tells Joey he will vote to keep her.

12:44 PM BBT – Caleb tells Paola that Joey has pretty much sealed her fate. Paola should be safe this week, he says.

12:45 PM BBT – Now Devin is sort of putting the moves on Joey and saying he wants to work with her secretly. He tells her she's the only person who knows who he truly is. Joey starts to feel safe.

2:33 PM BBT – Devin and Brittany making up for their fight from the night before. Devin says he's sorry and is tearing up over his daughter.

6:30 PM BBT – Derrick talks about bringing cigarettes with him to use as a bargaining tool with the smokers. But no one smokes. Smart move, though.

7:15 PM BBT – Not much going on. Small talk and people preparing dinner.

8:30 PM BBT – The guys are playing pool. Nothing much going on.

9:30 PM BBT – Joey and Caleb talking. She's apologizing to him.

9:46 PM BBT – Caleb tells Joey she may go home and she may not. She says she's accepted it that she's probably going.

9:50 PM BBT – Caleb says he's not interested in a showmance even though he talks about Amber non-stop.

11:07 PM BBT – Brittany expects to be nominated next week. Joey suggests Dr. Will was good at Big Brother because he was a psychologist. He's a dermatologist.

12:20 AM BBT – Booze Delivery has arrived.

1:15 AM BBT – Caleb saying no one else will hit on Amber because he has dibs on her. He wants to go talk to her about his feelings, but Paola and Jocasta advise against that.

1:25 AM BBT – HGs complaining that production makes them say stupid things in the DR rather than what they want to say. They can't be themselves. No kidding, it's been awful and useless for years now.

2:05 AM BBT – Caleb breaks the news of their budding romance to Amber. She's surprised and says she didn't realize. Amber thanks Caleb, but sets things as friends and leaves. OUCH.

2:10 AM BBT – Zach talks with Cody about next week's noms. No one from Bomb Squad until Week 5 then they start clearing that out.

2:35 AM BBT – Frankie & Christine dub themselves the "Smart Bombs" and are another F2 deal. Careful, Frankie!

3:05 AM BBT – Amber telling the girls about the Caleb mess. She says she'll leave the room when he comes around because of this.

4:00 AM BBT – HGs tucking themselves in to bed. Devin joins Caleb and Frankie in the HoH bed (it ain't that big of a bed!) but he's a snorer and Frankie wanders the house looking for makeshift ear plugs.
The Veto Ceremony is done and we've got a long haul to Thursday night's eviction vote. Joey is done. She can just leave now. But while I say that so confidently, we know a lot can happen between now and then. I just don't think Joey knows that and with so much time she'll just resign herself to departure.
Our new fun should be Caleb's denial over Amber's denial. She's not interested but he's not going to understand that as anything more than she doesn't want a showmance. What she needs to do is flirt her way to complete protection from him. Do not shrug him off, Amber. But again, Amber is another Big Brother novice and might not realize the power of puppy love in this game.
You can watch all of these Big Brother 16 events using the archives flashback, the DVR-like feature of this year's Live Feeds which means it's always live, even when you missed it!
Sign-up now to get the free trial to watch it all live & uncensored.
click images to see full-size