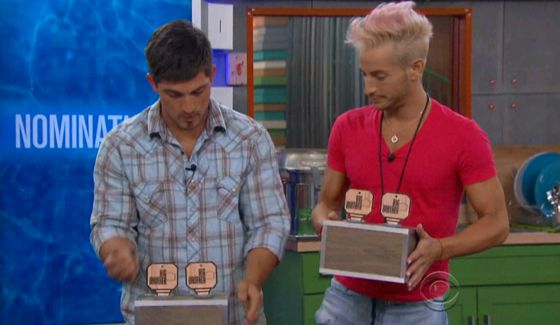 Big Brother 16 continues to show that it's ready to be fresh and beat the stigma that attached itself to Big Brother 15. There's a new opening and a new layer of competition added to what seems to be a fantastic cast. Good job, Big Brother. Let's hope this momentum sticks.
I will say that I'm not in love with the new opening or the new nomination ceremony, but I'm all for refreshing a show that's 16 seasons old.
And since there's a new competition to include, the usual Sunday episode saw some changes, too. We got the "Who wants to see OUR HOH room" right from the start this time and the nomination ceremony happened mid-episode. But let's back up and start from the beginning of the episode.
Cut to Christine and Nicole on the hammock. It seems the two super fans have bonded. They're simple girls who shop at Wal-Mart, Christine says, so it's only natural that they would gravitate toward one another. They've decided to work together and for each other.

Speaking of alliances that make sense, here's one that's the opposite of that. Frankie strikes up a deal to Caleb. He says no one would expect them working together. Caleb is interested. He admits they come from two different worlds but they mesh. They decide to pull in Devin and Derrick to build an army. Devin suggest pulling in Zach and Cody, but it sounds like they'd left them on the bottom of the list. Derrick thanks it's too early for an alliance and Cody kind of agrees. But the others don't and The Bomb Squad is born.
Devin, right after the Bomb Squad formed, meets with Donny to spew lies about their Double D alliance. He is unnecessarily fooling Donny and hams it up to the cameras, tinkling we're going to be impressed by him taking advantage of Donny's good nature. News flash to Devin: America isn't a fan of you.
It's already nominations time. And the nomination ceremony is of course different and even though I praised the show for refreshing itself, the ceremony is weird. Instead of the nomination wheel, the two HOHs both have boxes. I do miss the whole going around the table thing to reveal who is safe, leading up to the nominees. But anyway, Caleb nominated Donny and Paola. Frankie nominated Victoria and Brittany. If you remember, those are the four people who fell first in their respective HOH competitions. So that was the process Caleb and Frankie used to make their nominations.
Victoria is not happy that Frankie nominated her. Especially after they bonded on the first night and sort of struck up a deal. But the problem with that, unbeknownst to Victoria, is that Frankie is in like 10 alliances. But she feels really betrayed and you could tell she never expected him to nominate her.
After the nominations excitement dies down, Devin continue his reckless spiral. He decides to tell Christine and Amber about The Bomb Squad. First of all, I think Devin might be insane. He took adding them into the alliance into his own hands. He discussed it with none of the other five members. Then went to wake up Caleb to let him know. Devin left him or the others no choice. So now the Bomb Squad is eight members. But not eight members strong. Christine is still dedicated to Nicole and I'm not sure Amber even knows what Big Brother is yet.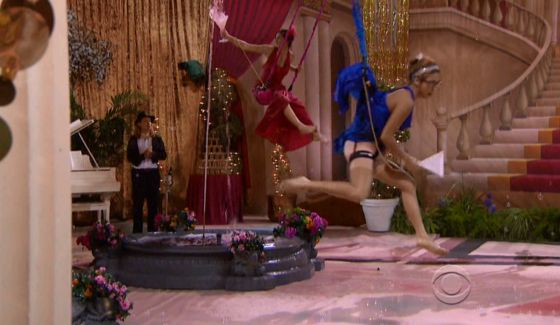 It's time for Battle of the Block. And it's a fun game that involves swinging on a swing and transferring champagne into a glass. The set is all pretty impressive and the competition is inventive. Again, good job, Big Brother.
Paola and Donny don't make a very good team, but Victoria and Brittany do. So it's no surprise that the two girls win the Battle of the Block. So that means they're safe from eviction and Frankie has been dethroned as HOH.
And so that leaves Paola and Donny on the block with only the Power of Veto to insure their safety.
What did you think of the new nomination ceremony and the new Battle of the Block competition?