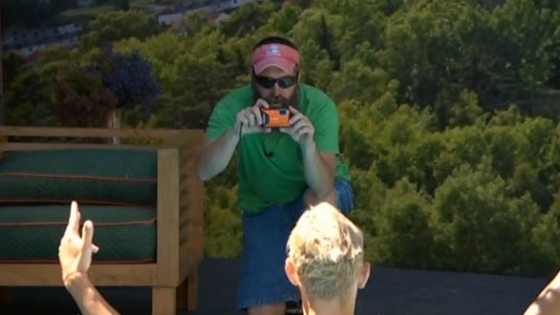 It was a quiet morning and afternoon in the Big Brother 16 house. Not a lot went down, but we continue to be convinced that Joey will be heading out the door this week and Devin continues to become a target. Find out what else happened on the Big Brother 16 Live Feeds and see what's going on as the HGs prepare for the first eviction.
Big Brother 16 Live Feed Highlights – Tuesday, July 1, 2014:
7:55 AM BBT – Brittany is still awake. Can't sleep in the HN room. Heads back inside to try again.

9:30 AM BBT – HGs get their wake up call.

10:15 AM BBT – Not many HGs are awake. Some of the girls are in the bathroom. Donny is outside exercising.

10:45 AM BBT – Everyone but Donny appear to be back in bed.

11:13 AM BBT – Zach has showered but headed back to bed. Devin is finally awake.

1:17 PM BBT – Frankie talking to Zach and Derrick about getting rid of Devin. Derrick says they can't now.

1:25 PM BBT – Zach and Derrick are still talking. Zach is worried Devin will win HOH this week.

1:38 PM BBT – Christine and Zach are laughing  in the storage room about how easy it is getting people on board with getting Devin out next.

2:59 PM BBT – Caleb has the HOH camera so the HGs are all taking photos.

3:19 PM BBT – Zach and Frankie talking in the storage room about how smart Derrick is.

3:33 PM BBT – Zach trying to get Paola to see who she'd nominate as HOH. She says she doesn't know. Zach says he knows who he would but he won't say.

3:34 PM BBT – Caleb and Frankie are talking game … no wait, it's just about Amber. False alarm. Caleb is at least seeming to get the picture that she's not into him. But now he says since she's in their alliance, he can't say anything to her about it or she'll expose the alliance.
So these HGs are all getting along right now, but we can expect that to end sooner or later. And at least now we might hear less about Amber from Caleb on the Live Feeds. Or not. One can hope, right?
You can watch all of these Big Brother 16 events using the archives flashback, the DVR-like feature of this year's Live Feeds which means it's always live, even when you missed it! Sign-up now to get the free trial to watch it all live & uncensored.
click images to see full-size