This Thursday the first Big Brother 16 live eviction will take place when one cast member is sent packing with the undesirable title of "1st Eliminated Houseguest." We've been watching the Feeds and know which way the wind is blowing as the votes are readied.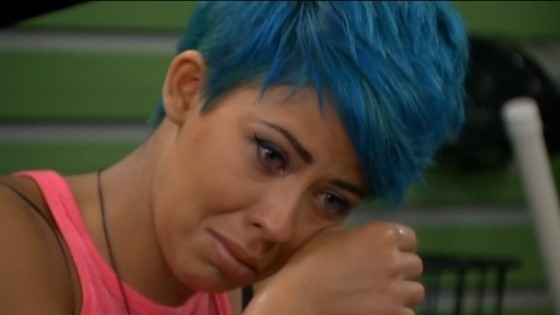 Since Friday after the Veto Competition things seemed pretty set on where they were going. Really even before the comp there was a plan, but more of a backup option. Once all the pieces came together the opportunity was seized and the table was set. Time to feast on the first sacrifice.
Once Donny won the Veto it was obvious that he'd use it and save himself. Before the competition Devin had suggested to Caleb and Frankie that one of noms come down and Joey go up. They weren't interested unless Donny or Paola actually won it themselves. Problem solved.
Joey even becoming an initial target goes back to her revealing her all-girls alliance and then pretending it never existed. This was possibly an attempt to cover for the other girls while not realizing how seriously the other HGs might take her actions. It made HGs suspicious of her.
On Saturday night Joey imploded her game by confronting Devin and telling him that she wanted him to go up and be the first evicted. Joey didn't realize you don't broadcast these sorts of plans, especially not to the target. It all worked in reverse and suddenly the house was fully against her.
You see, the first week of Big Brother can be kinda funny. Everyone seems to be in a bit of a daze as they acclimate to their new surroundings and when an easy target presents itself HGs tend to pile on in a mass, nearly unanimous vote. Most HGs are just excited that it isn't them and will go along with whatever it is. "You want to vote out my mom? Yeah, let's do that. I don't trust her either!"
Joey is that easy target and as it stands she's set to be voted out unanimously on Thursday.
Even Joey's close ally Brittany came to her yesterday and explained, as Joey sat alone crying in the Storage room, that she (Brittany) wasn't turning her back on her but she needed to watch out for her own game and was going to turn her back on her. Yep.
To her credit, Joey did make an attempt at campaigning yesterday and even made a bold move. She revealed to Hayden that she was "America's Favorite" (rather than explicitly "Team America") and that she had been awarded special powers that activated Thursday night. She suggested if he kept her then she'd keep him safe with those powers.
So yes, Joey out'd every alliance she joined this season in her brief time there. First the girls alliance then the alliance with viewers. Sigh. We'll have to wait and see how much damage was done to the Team America twist. If Hayden doesn't say a word then it's done, but after she goes he may start to mention it and things could unravel. Not to mention, what happens when its first member departs?
Do you see a different vote coming this week? Still a few days left for things to change.