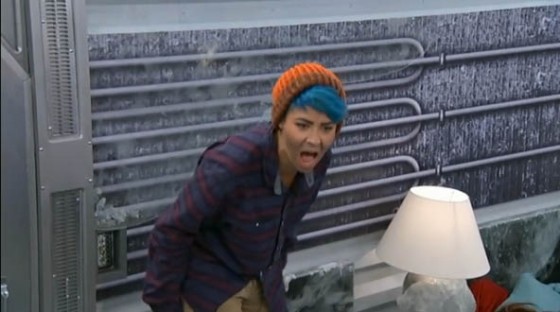 The Big Brother 16 Live Feeds were more of the same today (Caleb talking about Amber, Frankie and Zach confusing Twitter with their "showmance" and Devin being Devin). But we did get to meet a new houseguest, Alex! Yes, Alex is the 17th HG, but not really. It's Joey's alter-ego and she (or he I guess) is desperate to drum up votes for Joey. I'll let you guess how well it goes.
Read on to find out about Alex and what else happened on the Big Brother 16 Live Feeds Tuesday evening.
Big Brother 16 Live Feed Highlights – Tuesday, July 1, 2014:
3:35 PM  BBT – Caleb is again talking about Amber. Only now he's upset with her because he realizes she isn't into him.

3:55 PM BBT – Caleb and Zach say there's no way Joey is staying. They expect a unanimous vote.

3:58 PM BBT – But of course talk turns back to Amber. Caleb is not convinced Amber just wanted him to carry her to the end. He wants Amber to be the first of The Bomb Squad to get evicted.

4:01 PM BBT – Joey introduces her alter-ego Alex. He's a really aggressive guy who walks around the house screaming and grabbing his balls. She thought it might be a good way to save herself, but it really just freaked people out and made her target even bigger.

4:08 PM BBT – Brittany breaks the news to Joey that her plan failed and that people are actually pretty freaked out by "Alex."

4:25 PM BBT – Zach and Derrick are talking about their mutual dislike of Devin. They really don't want him to win HOH and they can't wait to tell Donny that Devin never had his back.

4:30 PM BBT – Cody joins the other two guys. They solidify their final 3 (even though Zach is still loyal to Frankie — I think).

7:30 PM BBT – Caleb and Hayden agree that Brittany and Paola need to go next.

9:15 PM BBT – Joey becomes Alex again. People aren't impressed.

10:00 PM BBT – Victoria is upset that Joey ruined her bathing suit. It's mild, but it's the first time any of the girls have been really upset with one another.

10:54 PM BBT – Zach and Frankie are talking in the HOH room. Zach wants Devin out. But Frankie reminds him that they need him for numbers. Frankie says Donny, Jocasta, Paola, Brittany and Nicole need to go.

11:25 PM BBT – Joey feels like people are saying their goodbyes already. It's upsetting her.

11:40 PM BBT – HGs speculating over next HoH competition. Derrick doesn't think they'll get another endurance comp just yet but maybe a step up/down one.

11:55 PM BBT – HGs gather for a talent show. Zach and Frankie's talent is spitting grapes in to each others mouth. Um. Hayden recites poetry in a silly voice. Derrick's talent is going to bed. Shouldn't that be Zach's?

12:10 AM BBT – Caleb suggesting Amber still likes him. Cody warns Caleb she may be using him. Caleb says Amber can go after 4-5 other HGs leave.

12:25 AM BBT – Frankie and Cody discuss the Devin situation and fear he could expose the Bomb Squad. They consider their best option may be to wait for a Double Eviction to get him out.

12:35 AM BBT – Frankie really hopes America starts voting for things like HoH. Yeah, of course he does. Then again, he didn't win first Team America, which shocked me.

2:38 AM BBT – Caleb and Frankie in HoH bed. Frankie having to role play as Amber so Caleb can retell how he accused her of talking about him and how he'd go get the HGs who told him what she said. Caleb goes on and on about how when he asks HGs what they think of him he's told he's the most amazing, sweetest person they've ever met. Good grief, this guy is a nut job.
So it looks like Joey's last-ditch effort failed miserably. Even Alex couldn't save her. In fact, Alex made the situation way worse. She is sure to go unanimously now. On a brighter note, it definitely appears that Caleb has realized that Amber just isn't that into him.
You can watch all of these Big Brother 16 events using the archives flashback, the DVR-like feature of this year's Live Feeds which means it's always live, even when you missed it! Sign-up now to get the free trial to watch it all live & uncensored.
click images to see full-size