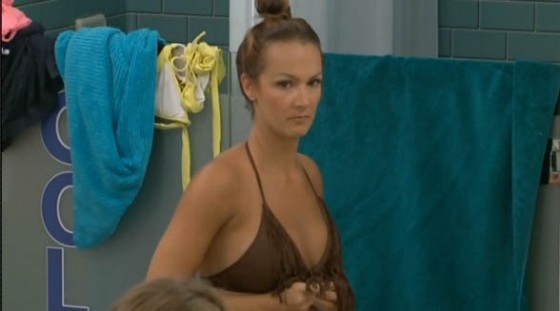 The Big Brother 16 Live Feeds started out pretty slow on Monday morning, but by afternoon Caleb forgot all about basically being reject by Amber from the night before and Joey revealed the Team America twist. She's doing everything she can to stay, but things still aren't looking too good for her.
Find out what else happened on the Big Brother 16 Live Feeds and get a feel on how the rest of the week will play out with the final nominations on the block.
Big Brother 16 Live Feed Highlights – Monday, June 30, 2014:
9:35 AM BBT – HGs getting their wake-up call. Many just went to bed a few hours ago.

10:14 AM BBT – Victoria and Christine discussing Brittany. Victoria doesn't like her because she's condescending. Christine agrees with her.

12:00 PM BBT – Outside lockdown. All houseguests head outside.

1:10 PM BBT – Joey tells Hayden about Team America. She's trying to use it as a way to save her this week.

1:30 PM BBT – Joey moves on to Zach. She doesn't tell him about Team America, but hints that there's something she can offer him if he votes to keep her. He tells her he's leaning toward keeping her over Paola.

1:50 PM BBT – Caleb sharing his Amber delusions with Zach. She was called to the DR and he's pretty sure it's about their talk from last night.

2:19 PM BBT – Joey begging Devin and Caleb for votes to stay (even though Caleb doesn't have one). She keeps saying she has "something to give" and the talk even turns to last season's MVP voting. How long until she tells them about Team America too?

3:22 PM BBT – Caleb warns Brittany to not vote against the house. Brittany is torn on who to vote for but agrees it's a bad idea to go against the house.

3:25 PM BBT – Devin tells Joey he won't be able to vote or her if the vote isn't going to be unanimous to save her. He doesn't want that to put a (bigger) target on his back.
Joey's decision to semi-expose the Team America twist is a bold move, but it's unlikely to save her. Instead it's setting the house up to question what's going on behind the scenes after her departure. Of course if Hayden doesn't repeat it then the news could die with him.
You can watch all of these Big Brother 16 events using the archives flashback, the DVR-like feature of this year's Live Feeds which means it's always live, even when you missed it! Sign-up now to get the free trial to watch it all live & uncensored.
click images to see full-size