Joey Van Pelt is in a bad situation on Big Brother 16 and her recent moves only seem to be digging that hole deeper. Now she's throwing it all at the wall in a big attempt that exposes one of this season's big twists: Team America. Find out what she said and who she's told.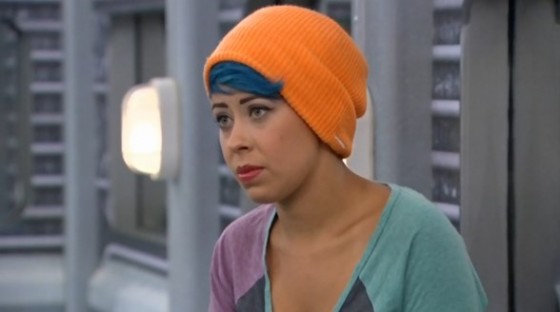 Earlier today I was contemplating the situation for Team America and what might happen if Joey were to go home. To make sure I had the rules right I went back to rewatch episode 2 where Joey read off the Team America card. That's when I noticed something else.
Joey has the choice on whether or not to reveal the twist making it her decision to expose or hide depending on what would help her game. I mentioned on Twitter then that Joey should have made a move similar to Adel's in Big Brother Canada 2 where he converted a small but special Veto power in to huge leverage that kept him weeks longer in the game. Of course it would have been no guarantee, but simply a vague threat of a special power could have been enough to scare off a renom and keep her safe a bit longer even if only for a week.
Guess what just happened? Joey has started campaigning and using her 'special power' (Team America) as a bargaining chip. But wait and see just how she presents it. While I meant she should have done it before getting on the block, this is at least a game move worth trying.
Flashback on your Live Feeds to 1:06PM BBT to find Hayden and Joey alone in the Living room. He's giving her advice on how to campaign when she makes the big reveal. Well a partial reveal.
Want to watch this on the Live Feeds? Get your Free Trial right now!
Joey: I have something… that if I'm able to stay, I can really help people out.

Hayden: What?

Joey: I can't say what it is. (Technically, she can, but she's not telling.) … If I say, I won't, I won't be able to do it.

Hayden: I don't really get that.

Joey: Alright, so I'm promising you right now, I will fight for you in this house if I stay here. I will keep your ass safe for 3 weeks if you keep me in here. I'm a better competitor than [Paola]. I can win [comps].

Hayden: Uh huh.

Joey: I was voted America's… *whispers* America's Favorite. *nods and smiles real big*

Hayden: What does that do though? Like what's your? What do you get to do with that? Do you know?

Joey: *nods* That's the thing. This stays between you and I. You promise? You have to f***ing promise!

Hayden: Yeah, absolutely. If you don't want to, you don't have to say. Either way I won't say anything. Just marinate on it.

Joey: If I don't stay though, I can't, I can't win it and I can't share it. It literally starts after this Thursday. (Based on details from the show it'd be a week from this Thursday, but good idea to move it up.) So I really need to stay in the house. But that's something I have that I can offer to people.
click images to see full-size view
Hayden encourages her to bring it up to people if she thinks it'll help her. He promises not to say anything and we'll have to watch on that.
So she didn't explicitly state what it was, but she's put it out there and that's all it takes. So whether she stays or goes, and especially if she goes, Hayden could share the news and the rest of the HGs will be on the lookout for something weird going on.
Kinda means that not only did Joey sink her game this week, unless this pulls her out of danger, then she also sank the Team America twist secrecy and the TA's advantage of an unsuspecting house. I would have revealed this too if I was in that much trouble, but I would have done it days ago and bargained to be 100% out of danger by avoiding the block rather than having to expose my secret AND campaign for votes. She's trying though and that's good. It's the best move I've seen Joey make yet.
What do you think of Joey out'ing her special "power" even though it's not really a power. Did she ruin the Team America twist in her confession to Hayden? Share your thoughts below!