The Big Brother 16 Live Feeds were SLOW last night. I mean slow. Unless you find Caleb talking about Amber exciting. But the weird thing is, this cast is entertaining. So even though there isn't a ton of game talk or fighting right now, you've got Zach busting a move, Frankie's alter ego Rhinestone Silversmith and Donny's cricket calls.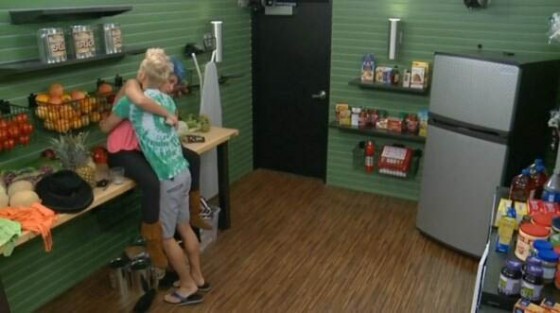 So while there weren't any major game moves last night, there were some pretty solid social moves.  Find out what else happened on the Big Brother 16 Live Feeds, including who is expected to head out the door next week!
Big Brother 16 Live Feed Highlights – Monday, June 30, 2014:
4:30 PM BBT – The houseguests are planning a prom this week, so talk of who will ask whom is going on.

4:35 PM BBT – Joey is crying in the storage room. Jocasta and Frankie come in and comfort her.

4:45 PM BBT – Joey once again says that Big Brother shouldn't cast recruits. She says it's not fair to the people (like her) who don't know how to play the game.

5:37 PM BBT – Amber and Christine talking about Brittany being the next target.

7:32 PM BBT – After Caleb talking about Amber again all day, Zach and Frankie access the situation. They agree that Caleb is obsessed with Amber and that she isn't interested like Caleb thinks.

7:35 PM BBT – Frankie echoes Amber and Christine and says Brittany is next out the door after Joey.

8:58 PM BBT – Amber tells Jocasta it's awkward being around Caleb.

9:45- 10:30 PM BBT – A lot of Big Brother 15 talk going on. Zach and Christine say that Amanda and Helen were dictators. Cody, Zach and Christine talk about how awful the final three were. Zach says he hated GinaMarie. Derrick tells Nicole how malicious the cast was.

10:06 PM BBT – Victoria and Derrick talk about keeping Joey. But that doesn't sound like it'll go anywhere.

10:50 PM BBT – Nicole is homesick and is crying.

11:03 PM BBT – Nicole is still upset. She's afraid of looking bad and getting attacked after the show is over.

12:05 AM BBT – Christine and Derrick talking game. She warns him not to get too close to potential targets Caleb and Devin. Derrick is also concerned about the giant alliance. He wants to make sure they keep Cody safe along with the two of them. Derrick knows Cody and Devin are at odds.

1:05 AM BBT – Devin is letting Caleb down easy about Amber. He seems to be accepting it, but then still says things about how he wants to get to know her more. Caleb jokes that "if I was just a little darker it might be okay." He also thinks if he changed his name to "Antoine" it'd be okay. Devin shakes his head in response, then jokes along with him.

2:30 AM BBT – Zach and Cody playing pool and talking game. There's concern about the Caleb & Amber animosity and its impact on their BS alliance and Caleb's ego effect on it.

2:35 AM BBT – Brittany hitting up Derrick to form an alliance. Audio is slow to join them and get loud enough for her whispers, but names may have included the two of them, Jocasta, Christine, and possibly others.

3:15 AM BBT – Devin and Caleb again talking about Amber. Devin upset that Amber was talking F2 with Caleb. Caleb is upset because of all those "mixed signals" Amber is sending out.

4:30 AM BBT – HGs are still up and out in the backyard. These are some serious night owl players! Brittany talking to Frankie that she's worried someone will flip their vote to keep Joey and pin it on her. She swears that if Joey gets one vote, it wasn't her.
So as you can see, it was a pretty quiet night but it sounds like Joey is heading out the door this week and Brittany could follow next week if she doesn't figure out a way to get the target off her back.
You can watch all of these Big Brother 16 events using the archives flashback, the DVR-like feature of this year's Live Feeds which means it's always live, even when you missed it! Sign-up now to get the free trial to watch it all live & uncensored.
click images to see full-size