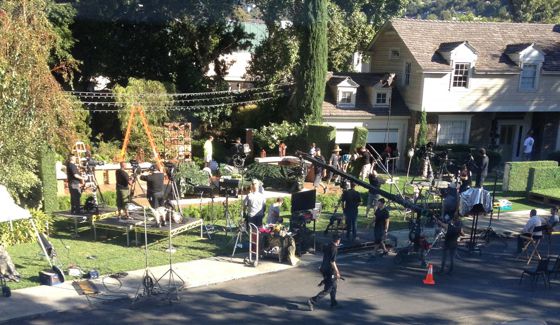 The Big Brother Jury held their round table debate last night as they tried to decide who will win Big Brother 16 and here is your first look thanks to some awesome photos shared by BB Insider.
The photos show the set up as Big Brother production staged the scene and used stand-ins for all the Houseguests. They could have at least given Zach's stand-in a pink hat! But no.
click images to see full-size view
Tonight's special episode might feature this segment which would require some really quick turn around considering it just happened, but they might be able to do it. At least I hope they do.
No word on who hosted the session, but I wouldn't be surprised for Dr. Will's return or maybe another Dan visit. Of course they've also got Jeff on retainer so that wouldn't be a shocker either.
Interesting thing about these photos is they reveal where the Jury round table debate took place this season. I would have assumed they were at the Jury House. Nope. They're on the CBS studio lot right around the corner from Studio 18, the home of Big Brother. Random, but I thought it was noteworthy. Yes, they have oddly out of place regular neighborhood style homes right in the middle of the lot.
Source: @TheBBInsider