Derrick Levasseur has been playing the most strategic game of the summer on Big Brother but he may soon be facing his biggest decision yet. With two Final Two deals left in the game someone may have to be betrayed.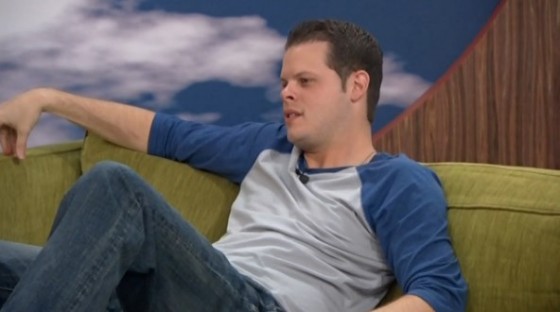 Derrick and Cody formed their Hitmen alliance long ago this season and it's paid off ten fold for them. Now both guys sit just one, maybe two steps from locking down as much as $600K between them. Oh but then there's Victoria.
All season Derrick has nurtured his Victoria-flower. He's kept her safe and fed her enough attention to make sure she stayed in his corner. She's solid with him to the end. So what's Derrick going to do?
Derrick has a few options. I fully expect him to win the Round 2 HoH competition which would put him up against Cody in R3. I do not think Derrick will throw Round 2. Once at R3 Derrick can either go full out to win the final HoH or he could throw it to Cody.
If Derrick throws it to Cody he's taking a huge gamble. I do believe Cody would take Derrick to the end, but it's a risk because he's leaving his fate up to Cody instead of controlling the decision. If Cody were wise then he'd cut Derrick and take Victoria. 'Dollas before Hollas.'
If Derrick doesn't throw it and is able to beat Cody then here comes the big, big choice. Cody fully expects Derrick to take him and so does Victoria. Just two nights ago Victoria was threatening Derrick with "you better f**king take me [to F2]." She wasn't joking, but would she be mad enough to vote against him in Jury?
What's a guy to do? If he's smart, and we know Derrick is, then he should take Victoria to the end. It's an easy, easy, easy win. Five Jurors would not vote for Victoria over Derrick. Not going to happen. But will Derrick want to prove himself by sticking to his original F2 deal and going against a stronger competitor than Victoria?
As part of his move to encourage Caleb to evict Cody at F4 if he had the chance, Derrick told Caleb about Tony & Woo. Last season of Survivor we saw Woo win the equivalent of the Final HoH and have the choice to take Tony, the season's controlling castaway (basically Derrick and also a cop), or Kass, the weaker troublemaker who betrayed her own alliance over so much that no one would ever vote for her at the end. Woo took Tony because it was a more "honorable" win for him. Woo lost. Woo lost a million dollars on that one decision.
Note: As far as I know, Derrick has not told Cody the Woo story. That wouldn't be smart to do.
Do you think Derrick would risk that same loss with Woo's decision fresh in his mind? At the start of the season I thought 110% that Derrick would take Victoria to F2 given the chance. As the summer progressed I started to question that and think maybe, maybe he'd take Cody. I'm torn.
I do not think Cody could beat Derrick in F2, but we have that perfect 20/20 vision of the season and know Derrick's track record. The Houseguests have only partial information and Cody's impressive comp win record to consider. Although, from what we've heard much of the Jury knows what a strong and commanding game Derrick has played. This is Derrick's to lose at this point.
What I'd like to see from my fan's perspective: Derrick wins R2 & R3 then cuts Cody and goes for the easy win with a sure thing sitting next to him. Nothing personal to Cody, but I wouldn't want to take the slightest risk.
Derrick may throw the third round and let Cody cut Victoria as he also cut Caleb, thus avoiding a bitter Victoria, but giving Cody another feather in his Big Brother cap while gambling that Cody won't make the smarter choice.
If it comes down to Cody's choice, let's just hope for Derrick's sake that Cody didn't watch BBCAN2.