Big Brother history is rich in hilarious and ridiculous costumes put upon HGs as a punishment of humiliation. That list has a new entry this week thanks to Nicole Franzel.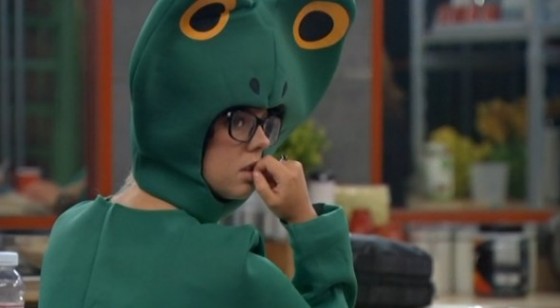 On Friday evening the Big Brother 16 Feeds returned from the Battle of the Block competition to reveal Nicole dressed up in a full-size frog costume. While we haven't seen the competition, it appears as though this was the result of her nominees winning and Nicole earning the costume as a punishment. If so, it might have been a set up by production as the announced plan was for her nominees to win and Derrick's to lose as part of their "evict Devin" plan.
Nicole will have to remain dressed up as a frog for one full week, so yes, she'll have to wear it through the next live eviction and we're sure to get some Q&A time between her and Julie Chen to highlight the outfit which is complete with hand and feet frog parts.
As one bonus for Nicole, it looks like she'll dodge the Big Brother costume curse and not be evicted while wearing the outfit as we've seen happen several times.
Check out the gallery of pictures below and turn on your Live Feeds (start your Free Trial now) to see Nicole hopping around the house. Ribbit. Ribbit.
click images to see full-size views