It was a stressful Saturday inside and outside the Big Brother house as Houseguests prepared for the Power of Veto competition while their plans hung in the balance.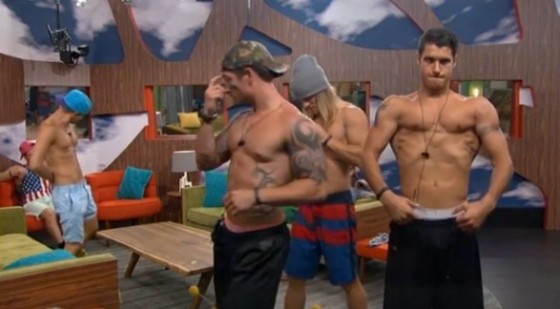 Did the Big Brother 16 HGs get the chips they needed drawn and what happened in the Veto competition? All the details are below in our summary report from yesterday's Live Feeds.
You can rewind your Feeds using Flashback to catch all of these events over again like it's happening live. Don't have your account set up yet? Grab the Free Trial and see what other fans are watching.
Big Brother 16 Live Feed Highlights – Saturday, July 12, 2014:
9 AM BBT – HGs had their wake-up call, but most are still staying in bed.

9:35 AM BBT – Hayden with Donny in the Hive. Donny still pushing on the Bomb Squad questions. Donny tells Hayden he trusts him 100%. Hayden says the same.

10:45 AM BBT – Jocasta is still in very rough shape from dehydration. HGs keeping an eye on her.

11:45 AM BBT – Feeds have returned and the Veto Players were selected. Devin will be joining them in the competition along with Donny and Christine. Jocasta will not be participating. Turns out later she doesn't even attend.

12:20 PM BBT – Caleb and Derrick discuss possible outcomes of the Veto comp. Caleb says he will go for cash and prizes over the Veto. Derrick tries to warn Caleb that's a bad idea. Caleb is oblivious to his vulnerability on the block.

1:35 PM BBT – HGs plotting against Devin for how to win at various comp styles.

4:18 PM BBT – Feeds return and the house is happy. Donny won the Veto. Cody gives Jocasta a strip tease to make her feel better.

4:25 PM BBT – Guys are having a "hot bod" contest for the girls to judge. Lots of silliness.

5:00 PM BBT – Cody and Caleb plotting next evictions. Caleb wants Brittany out next and Cody wants Jocasta to go.

5:55 PM BBT – Have-Not food revealed: Offal Burritos. Hayden takes Christine's spot because she can't eat it. Other HNs are Amber, Devin, and Caleb.

6:20 PM BBT – Derrick and Nicole in HoH room. She's worried about Donny and that he might nom her if he wins HoH. Derrick thinks Donny is causing trouble in the house and he's been winning a lot of competitions.

7:40 PM BBT – Devin talks with Donny and again apologizes for having been suspicious of him early on. Sounds like Devin is giving it a shot at campaigning for that Veto.

8:10 PM BBT – Derrick starts on his Team America mission. He gets Victoria and tells her that Zach is Amanda's (BB15) cousin and that Zach revealed it to Pao. Derrick wants Victoria to go ask Brittany about it. So the mission is to get the rumor to spread to another person and apparently Derrick is allowed to tell the HGs to spread it? What a cop out. (See what I did there?)

8:40 PM BBT – Victoria wants to know if there's a big alliance in the house. Derrick immediately dismisses it as a conspiracy theory.

9:30 PM BBT – Frankie telling Christine that he's worried about Brittany so he was trying to get others worried about her too.

11:00 PM BBT – Amber and Frankie discuss Devin getting voted out. Frankie is confident it'll be a unanimous vote against Devin.

11:30 PM BBT – Frankie working Amber over about Brittany and why he doesn't trust her. Amber asks if she can trust Frankie.

1:20 AM BBT – Nicole is very suspicious of Donny for telling her the Zach rumor and instructing her to tell one person. It was too precise and she thinks he's part of a twist.

1:45 AM BBT – After talking to Zach about possibly voting out Caleb, Frankie goes to Derrick to discuss the idea. Derrick won't try to influence the house. He wants to keep this idea hidden from Amber.

2:15 AM BBT – Zach joins Frankie and Derrick in the HoH room. They want to use Donny's fear of "The Eight" to guarantee he'll use the Veto to save Jocasta. Without that happening they can't get Devin on the block.

2:25 AM BBT – Caleb and Amber talking about targets. Amber is worried about Donny while Caleb is more concerned about Brittany. Amber thinks Donny is targeting her.

3:20 AM BBT – Hayden and Cody agree that Brittany can't be trusted. Cody says he took risks for her and she turned her trust against him. After that she lost his support. Cody thinks he could get Amber to side with them, but he's worried about being around her when Caleb is too.

3:30 AM BBT – Caleb having a long, creepy talk with Amber. He wants a date with her and she's not taking him up on the offer. Caleb says he risked his chance at this game and she still won't. Clueless. Later she finally agrees to go to Chick-fil-A with Caleb.

5:00 AM BBT – Derrick talking with Cody and Zach. They're confident Devin will go up and go home this week.
As long as Donny rescues Jocasta as she's been repeatedly promised then Devin will be renom'd. Reminder: since Devin played in the Veto competition this is no longer a "backdoor" scenario. That only happens when the target does not have the chance at safety.
Veto Ceremonies are held on Mondays so get ready for that big news tomorrow and we'll keep you posted on all the results.
You can watch all of these Big Brother 16 events using the archives flashback, the DVR-like feature of this year's Live Feeds which means it's always live, even when you missed it! Sign-up now to get the free trial to watch it all live & uncensored.
click images to see full-size