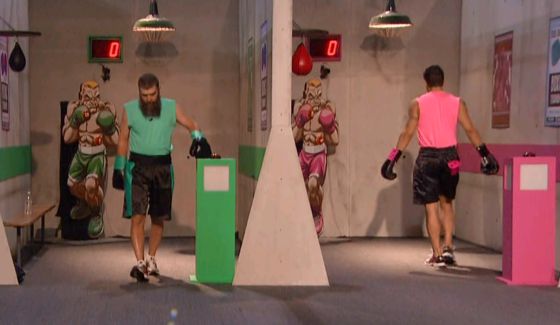 Nicole is back in the Big Brother 16 house! So that means Donny has a new ally and that the Detonators might finally be at risk! Right? No. Not at all. Despite the possibility, we just get more of the same this week.
The episode picks up right after Nicole won the jury competition. Hayden tells her to go after Derrick and Cody and she says "OK."
And only Donny is excited to see Nicole back in the house. Everyone else is just stone-faced and already thinking about getting her and Donny out. Christine is the most worried, however, because she's the one that backstabbed her and sent her out the door last week. Cody tries to express his concerns, but he sounds like someone who just learned English, so I think he isn't too happy either. But I'll let you know for sure later if that's what he said if I can find a translator.
Donny fills Nicole in on all the dirty garbage that has gone on in the short week that she's been gone. But he's doing so in front of Victoria and she goes to tell godfather Derrick. And Donny knows she's going to tell them and he doesn't care.
Oh wait, Cody is talking again. This time I think he's trying to say Donny is an awful person, but what I'm getting from the montage is that he's just playing Big Brother and trying not to get evicted. But again, I'll let you know for sure if I find a translator.
Time for a Caleb as a ninja montage. Or as I like to call it "Uh-oh, this season is terribly boring and we need some filler." But hey, at lead Cody is entertained.
Oh yeah, HOH. Let's get to the HOH. It's a what day was it competition and it's not going too well. First out is Nicole. Victoria is out second. Christine is out next. Caleb is the next person eliminated. Derrick is out after Caleb. That leaves Cody and Donny. In the end, Caleb bests Donny but a few seconds and is the new Head of Household. Sorry Big Brother fans hoping for a shift this week (and Donny and Nicole's safety).
So it's pretty obvious they're (Derrick and Cody) are going to put up Donny and Nicole, but they can't just end the episode right at this point, so let's pretend there's a chance that something other than that will happen. So Nicole goes to Cody to make her pleas and then Derrick and Cody talk about how they might want Christine out over Nicole. And then there's some Frankie talk and Caleb talk. It's all just filler at this point.
Speaking of filler, we get a segment on Derrick's undercover assignment in the Big Brother house and how close Nicole got in the Big Brother jury house.
But back to the game. It's time for Donny to make his plea. He goes to Cody and decides to do some fighting for his life. But of course, Cody just looks at it as more scheming from Donny. Nice try Donny, but Derrick has these people wrapped around his fingers. Everyone, but Donny, that is. Derrick likes to pretend that he wants Donny to stay, but Donny doesn't believe it. Derrick has never given him a reason to believe it. Just because they're both in Team America doesn't mean Derrick wants Donny around.
Derrick also thinks he has America wrapped around his fingers too. He actually talks to us in the Diary Room that he likes Donny and doesn't want him out, but anyone who watches a second of the Live Feeds knows that's not true.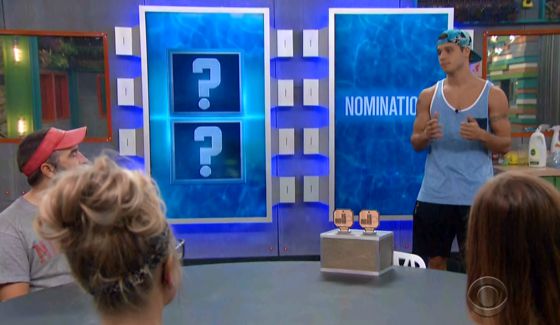 It' s nominations time and just because we're down to a single HOH doesn't mean the nomination ceremony went back to its old way (that we all miss). Still no more going around the table revealing who is safe. Cody turns his little keys in that new block and Donny's and Nicole's photos come up. To no one's surprise.