After a long Big Brother 16 night for The Hitmen where we saw Zach pursue the idea of keeping Nicole, Derrick and Cody settled down to wrap things up with a run through their "hit list" for the weeks to come.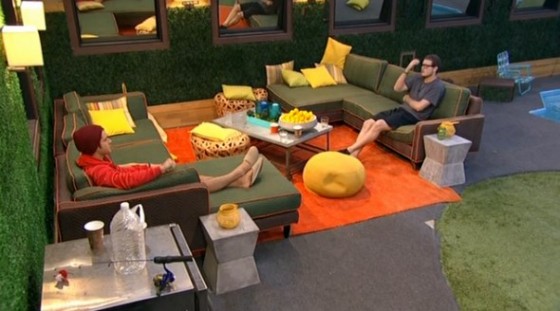 Alone in the backyard Cody and Derrick were able to speak freely about their next round of targets and what order would work best for their game. Derrick gave Feedsters a preview of their list. Flashback to 6:09AM BBT 8/13. Get the Free Trial now to watch along.
"In a perfect world for the Hitmen," says Derrick, "we get Donny out next week. Victoria out the week after. Or Christine. Victoria or Christine. Whoever we can get up there [on the block]. One of 'em gotta go. Preferably Victoria, then Christine. Then we gotta go after…"
Cody cuts in asking if they wouldn't want to get Frankie out before Victoria or Christine. Derrick says he would if they could get him up there. "If we can get him up there, then I'll send him home," says Derrick. "I would rather send home Frankie before Victoria," adds Cody. "So let's do it," agrees Derrick.
Derrick runs through their revised list. Donny, Frankie, Victoria or Christine with whichever one doesn't go home that week would go home the next, then Zach. That would leave them with Caleb. Cody questions whether or not they could beat Caleb in a F3 round of competitions. Derrick thinks they could, but Cody is hesitant. Okay, so Derrick offers another option. Wait for it. Wait for it.
Derrick's alternative to Caleb with them at F3 is… Victoria, of course. Hah! Well done, Derrick.
Just as we saw above, Derrick offers up Victoria on the same level as Christine and even says she can go home before Christine. He's careful to show them as interchangeable because Derrick does not want Victoria going. He's got Victoria in his pocket but Cody doesn't realize just how deep she's in there or how nicely he fits in to Derrick's other pocket.
I've said it before, and I'll probably say it again, but so far it's almost like Derrick is Memphis'ing Cody and Danielle'ing Victoria. Derrick's HG control is trying to be two seasons of Dan Gheesling's moves combined in to one. Of course the big question is can he keep it rolling as far as he needs it to go?