Last night as Cody Calafiore waited for the end of the latest Final HoH competition he spoke about his chances of winning the $500K and which votes Cody thought he could secure against Derrick Levasseur.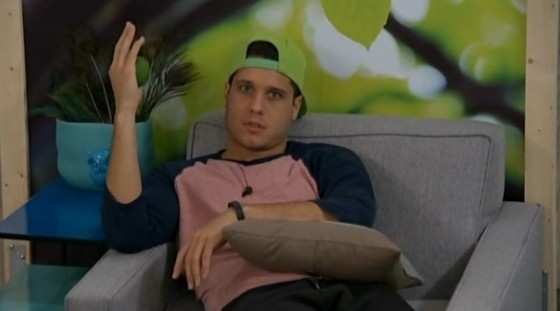 Cody's comments laid out a tight race between him and Derrick, but would it be enough to change his apparent dedication to the Hitmen? Here's who he's putting in his column and those going for Derrick. There will be a total of nine votes with five of those Jurors required to secure the $500K.
Flashback to 9:06PM BBT 9/19 to find Cody breaking down the count. He calls out the votes he thinks he has including Christine, Jocasta and Donny and thinks he may be able to sway Hayden. Maybe, he says.
In Derrick's corner he puts Nicole, Victoria, Caleb, and Hayden as a swing vote if Cody isn't able to convince him during their final talks and the Q&A.
That covers seven of the potential nine Jury votes while leaving out Zach and Frankie. Cody goes back and forth between 4-3 and 3-4 while trying to decide where Hayden belongs. Finally he admits that it doesn't look good for him. Yikes.
If you think that would give him pause to reconsider taking Derrick to the end, well, then Cody might surprise you. Just a moment after expressing concerns over his chances of beating Derrick Cody declares that he hopes Derrick wins Round 2 so they "crush it in the finale." Yep.
Even with his doubts of a win against Derrick Cody still wants to go to the end with him. Considering he's completely alone for this conversation I don't think he's lying about his intentions and at no time did Cody express interest in taking Victoria. Yikes again. Good for Derrick. Bad for Cody.
The final vote count might be close between Cody and Derrick, but I don't think it should be. Derrick should wipe the stage with Cody, but even a close win is still a win and I'm confident the giant check will be Derrick's to take home this season.
What do you think Cody will do if he gets to make the choice on the Big Brother F2? Would you be willing to take Derrick or opt for the easy win over Victoria? I know what I would do!