Derrick had been planting seeds in Cody's mind that the time may come when they'd need to turn on Caleb and instead take Victoria on with them to the Final Three for Big Brother 16. Now it's time to harvest that yield, but would Cody come around to the suggestion?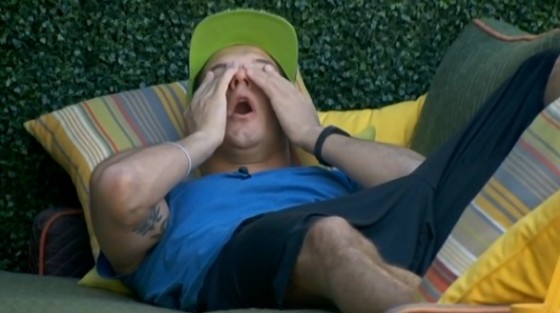 Late Friday night Derrick spoke with Caleb in more solid terms that they would have their best shot going against Victoria in the Final HoH 3-round competition. This would prevent the chances of Caleb pulling off a very reasonable win and splitting up the Hitmen. Cody initially pushed back saying he would feel "terrible" about crossing Caleb, but would do what's best for him and Derrick to move forward together.
After a night of sleeping on it, Cody came to Derrick with his decision. Flashback to 3:04PM BBT 9/13 Cams 1/2 as Cody and Derrick sit alone in the backyard discussing the situation.
Derrick says if he wins the next HoH competition then he'll "put up Caleb and Victoria, then if one of us wins the Veto…" Cody cuts in with "send Caleb home." Derrick asks Cody if he thinks that's the best thing for them to do? Is it the right move?
Cody is confident that it's the right move and gives them the best opportunity to win in the Final Three. He says he'll feel bad about crossing Caleb, but also knows he'd feel worse if they kept Caleb and Caleb split up the Hitmen ahead of the F2.
At 3:08PM BBT Cody and Derrick continue to justify this decision saying Caleb wasn't even a member of the Detonators or with them at the critical decision points. They discuss how Caleb is only close to them now because they stole him from Frankie after Frankie turned on all the guys. Using him now to serve their needs would be no different, they suggest.
Yes, it sounds like this is a set plan for the Hitmen. There's really no alternative if they want to maximize their odds going in to the F3 and on to the F2. The first two rounds of the Final HoH comps involve physical abilities and Caleb would absolutely be a stronger competitor against them than Victoria would. Unless you were okay having your F2 alliance at risk then there's no justification for keeping Caleb. Cody sees this now and will go along with Derrick's plan.
What do you think of Derrick and Cody plotting against Caleb? Had Caleb not agreed to go against his own F2 deal by targeting Frankie then he might be in a better spot right now, but as outgoing HoH he's a sitting duck with only one Veto competition left to protect him. We shall see.