Caleb has a plan to get himself to the end of Big Brother 16 for an "easy win." Remember that discussion on Saturday afternoon between Cody and Derrick on how they could get to the Final Two together by cutting Caleb loose? Take that talk and reverse positions for Cody and Caleb. That's Caleb's new idea.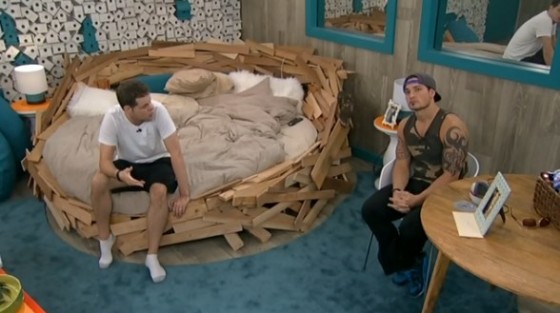 Cody and Caleb had a long talk on Friday night where Caleb expressed his desire to go to the end in a toss-up chance instead of more decisive victory. Cody was sure to relay back to Derrick that Caleb thought he (Derrick) would be a knock-out win for Caleb and that soon solidified Derrick's plans to cut Caleb at F4. Now Caleb is changing his tune, but is it too late?
Flashback to 4:36PM as Derrick arrives in the HoH room to talk with Caleb. Caleb has a plan: "There's one way we can guarantee ourselves to be Final 2… It sucks and he could possibly be mad… You win HoH, put up Cody and Victoria. If Cody doesn't win the Pov then I'd send him home." Derrick replies, "we could do it and we're guaranteed Final 2."
Derrick adds on that if Cody makes it to the F2 that there's a "good chance he (Cody) will win the entire thing." Derrick wants Caleb to doubt his chances against Cody in a F2 pairing. Caleb then suggests that while Cody might be mad about it but Caleb thinks he would understand that they have to do what's best for their game.
There are a lot of nods and yes replies from Derrick to Caleb's suggestions, but I don't think he's entirely discounting this situation. Derrick needs a backup plan and if Caleb is now serious on this course of action then it would cover every out in the game for Derrick to get to F2.
Derrick starts to lay it on to reinforce Caleb's considerations which is smart considering Caleb has more waffles than an IHOP. He tells Caleb "no one ever takes their biggest competitor to the end" and goes on to relay the story of last season's Survivor. In that season we saw a player choose to take a tough competitor over an easy win and lose the million dollar prize (to a cop, none the less).
Caleb wraps up their talk by saying that even though he thinks Cody might be upset he'll be comforted knowing that "one of his boys" will be winning the $500,000. Derrick goes along saying Caleb has such a strong record that he knows he'd lose to Caleb, but would still be happy getting $50,000.
Now I didn't catch Derrick running this news back to Cody like we saw Cody do when Caleb offered him a F2, but there's time for the conversation to rise to the top. If Derrick needs a last push to convince Cody then this would be his ammo. If not, then it's Derrick's Plan B for getting to the end where he would most definitely beat out Caleb.
Should be a very exciting final week as the Hitmen close in on making it to the F2 and locking down the big prize. Do you think they'd split up and let Caleb get between them or will Caleb have to win his way to the end?