After a frantic few days leading up to a house flip, double eviction, and an up-all night house one HG is looking to keep that wild streak alive.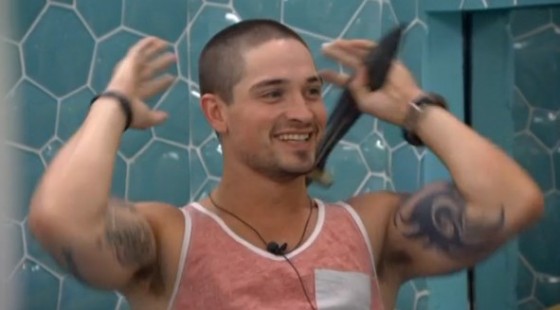 Caleb Reynolds came up with a big idea this morning when he learned that his former ally was throwing his name around and was even the source of lies surrounding Amber's eviction. When the Battle of the Block arrives later today we could get some fireworks if his plan goes through.
While Derrick was working to get Zach on the block by Nicole's hand in the early hours this morning Caleb came up to talk with them. Caleb had just heard that Frankie was telling her to put up Cody, Derrick, Caleb, and Zach. He was pissed already when Nicole added on that Frankie got her to lie to Caleb about Amber last week.
Caleb immediately told Nicole to put him up so he could throw the Battle of the Block while paired with Frankie and insure he's one step closer to eviction.
Not only does Caleb want to throw the competition and force Frankie's situation, but he wants to do it in grand fashion. "Epic" was even tossed around as he planned all the possibilities with Derrick.
Flashback to 6:40AM BBT 8/8 (get the Free Trial now to watch) and you'll find Caleb and Derrick laughing at the idea of Frankie freaking out as Caleb throws the comp. Caleb says if there is a harness involved like the magic themed one then he could pull Frankie up in the air, hold him there, and tell him to watch as they lose.
Another option for Caleb is just to sit down when the competition starts and tell Frankie he did this to himself. The guys suggest Caleb take sunglasses with him so he can pretend to catch some rays instead of working on the comp. Caleb is very excited about the plan and thinks he'll be remembered as "the who guy who sat down at the Battle of the Block."
Caleb promises it's going to be a sight to see when he takes Frankie down in this competition and it kills me that we can't watch it all play out on the Live Feeds!
Do you think Caleb will go through with his plan or get cold feet and try to win the Battle after all? If he sticks to it then Frankie still has a shot at the Veto, but if Frankie comes down then Christine goes up. They just better hope Christine doesn't win the Veto again and save Frankie!