If you're like me then you're fretting the day when Caleb Reynolds is voted off Big Brother 16 and gone from our televisions forever. Okay, maybe I'm not that worried, but in case you are, Caleb is hard at work developing new ideas for different shows based around how incredibly awesome and desirable he is to the world.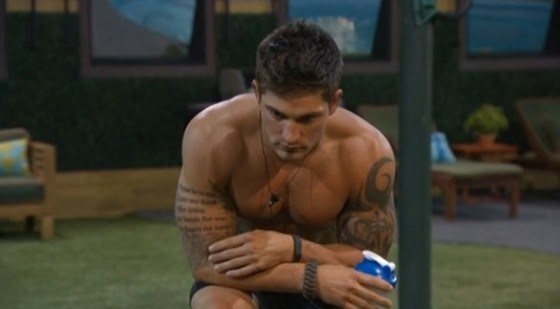 There's no doubt that Caleb might be a good bit out there when it comes to his self-confidence but at the very least it's kept us thoroughly entertained. Last night was a new installment of "As Caleb's World Turns."
Turn on your Live Feeds (Don't have them yet? Get your Free Trial now to watch.) and Flashback to 8:48PM BBT 7/25 on Cams 3/4.
With a captive audience (a roomful of HGs who have no where to escape), Caleb explained how truTV purchased rights to a show about him, his brothers, and his fathers. It was to be a hunting show "like Duck Dynasty." The story line would have been Caleb's family working with local game wardens to combat poaching.
It's hard to tell if this actually happened or was how it would play out in Caleb's mind, but here's how he explains it. His family would set up a decoy bald eagle and then hide in the weeds in all their camo. When someone would shoot at the fake eagle they'd jump out of the weeds on their four-wheelers, throw the perps on the ground, and then call the game warden.
Sadly, just a week after truTV bought it up they dropped it "for some reason." Then Discovery Channel bought five seasons worth and immediately dropped it. Did these networks schedule the meet & greets only after purchasing?
That's just the appetizer to this big Caleb meal. Here's the main course. Caleb pitched another show idea to one of the producers. He wants to do something special for the "ugly" or "overweight" women of America. These "ugly" women could enter themselves in a drawing and then he'd travel around the country and show up in a limo to take them out on a date.
So what would Caleb do for all those unfortunate ladies out there? Why whatever they want to do! He'll take them to the zoo and hang out with them. It's at this point that both Donny and Hayden get up and walk out of the room just leaving poor Victoria and Nicole to endure this challenge.
Again sadly, the producers weren't interested. Caleb says he's all about "helping people and uplifting people." Especially the ugly & overweight women, it seems. "I wanted to be their first date and open their eyes." Okay, so he means well, but my goodness.
While his original show ideas may have failed, Caleb doesn't plan on fading away from television anytime soon. After Big Brother he says he'll probably "jump on [Survivor] next" since they wanted him before Big Brother did.
Caleb also came close to trying out for The Bachelor, because as he sees it, he is "that 26 year old looking for love." So why didn't he do it? He didn't think he was "stable enough." I'm guessing he didn't mean that like the way viewers think it. There was also the issue of a lot of paperwork and background research because ABC isn't going to put "a loop, a crazy guy" on there. Yeah, stay out of CBS's niche, ABC!
The HGs are saved by the bell when the backyard is opened back up and everyone in the living room clears out to escape Caleb's story time. I guess we'll just have to wait and see where this shooting star lands next!