Following Caleb Reynold's shared punishment with Victoria Rafaeli where the two were chained together as "Beast Mode Adam & Princess Eve," we now get something else to enjoy.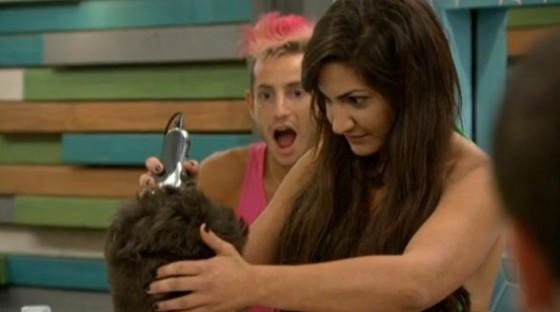 As part of the Battle of the Block competition Caleb opt'd for the advantage of a quicker path to the win while earning a punishment of shaving his head. Victoria, his partner in the comp, was not required to shave her head or even do anything with her hair which seems unfair. HGs asked what would happen if the team was two girls and they said they'd have to pick a different route.
Once the competition was over Caleb almost immediately started trying to go back on his haircut. He was soon telling HGs that he had an offensive tattoo of an Iron Cross with two words sharing the same letter (Neo-Nazi perhaps?) on his head. For this reason Caleb said he could not shave his head. Big Brother didn't buy it and the punishment went through. Wait, back up. Who would rather claim to be a racist than get a haircut? Caleb, apparently.
Flashback on your Live Feeds to 7:59PM BBT 8/1 to watch as Victoria works the clippers and shaves his hair off. Don't have the Feeds? Get the Free Trial now. No, he didn't then get a straight razor out to make it smooth, but there's not much hair left at this point.
click images to see full-size gallery view
Caleb isn't thrilled about it and has been wearing the crown or a hat most of the time since, but that's made for its own interesting revelations as well.
What do you think of Caleb's new look? Should he keep it short or grow it back out?