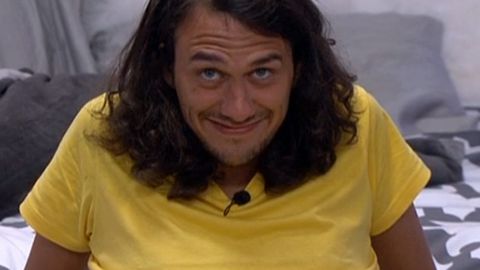 Tonight is going to be incredible to watch. The live show will be awesome, but the fallout on the Live Feeds will be even more amazing. If you're not signed up already then make sure you have it set and ready to go right now with the 2-day Free Trial.
As it stands tonight is going to be a blindside either way. Both sides of the house are confident in their ability to evict their target with just a few players in between those zones of confidence.
Attention: Canadians can now watch the Live Feeds – Details!
All of this turmoil and power shifting can be traced back to one HG: McCrae. He is the pivot point between the two sides with his Moving Company (MC) alliance and his allegiance to Amanda who has grown tight with Helen and Elissa's side of the house. McCrae has a very large decision to make tonight and this could all hinge on him.
Yesterday we saw Amanda working the house before turning to McCrae and making sure he was solid. Slowly through the day he became more and more assuring to her that yes, he would vote out Nick. Flashback to 11PM BBT last night to listen in as Amanda celebrates what she sees as a pending win. BigBrotherAccess.com noted McCrae's thoughts from that discussion, pardon the language:
McCrae: "I'm still a little worried, but at this point, I don't give a f**k, I'm so ready to do this… this is going to be f**king fun, they are all gonna go f**king nuts… this is going to be the most f**king funniest thing ever… but this is going to be blood on my hands… night night motherf**kers."
If McCrae votes out Nick then that's all it takes. He's the 6th vote in either direction and with his shift more votes could follow. The confidence of his support has emboldened Andy to be more forceful and has Spencer on the run from Jeremy and Nick's side. Howard wants to go down with the ship despite Spencer's encouragement, but that could change in the 11th hour.
This is a big decision for McCrae, but he wasn't getting past this point without making it. If he voted out Elissa he'd be out'd to Amanda and Team Elissa. If he voted out Nick he'd be pulling out the keystone of the Moving Company and dismantling that alliance. He can't have it both ways and I think he realized it.
From here on out, if the Rebel Alliance sticks together they'll control a string of subsequent evictions. They'll likely secure MVP one way or another even if Elissa doesn't get it. America won't be voting that power to Aaryn, Jeremy, GinaMarie, Kaitlin, or Spencer anytime soon. They'll be picked off one by one if the Rebels stick together. Of course, the same could have been said of the Moving Company if they stood solid.