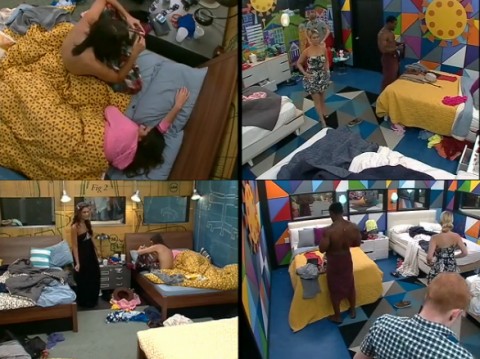 Happy eviction day, Big Brother 15! Tonight someone will be going home and if you're just now checking in on what went down on the Live Feeds so far today, you might be in for a surprise. All day long, the house has been scrambling and flip-flopping and freaking out. It's been glorious so you will want to get caught up!
Read about all the moments from the house on our Live Feeds highlights below. And remember that you can check out any of these moments by using the Live Feeds flashback/archive feature.
Big Brother 15 Live Feed Highlights – Thursday, July, 11, 2013
10:1o AM BBT – Wake-up time!

10:19 AM BBT – Feeds return. HGs are starting to wake up and move about the house. Helen and Elissa are studying for tonights Head of Household competition.

10:46 AM BBT – Howard and Spencer continue plotting Amanda's demise.

10:56 AM BBT – Jeremy confronts Amanda about hearing that she is not voting with him to evict Elissa. She says nobody knows who she's voting for.

10:59 AM BBT – Helen tells Spencer that Nick needs to go because he is a huge threat. Spencer continues working on tainting Amanda to Helen.

11:04 AM BBT – Jeremy tells Amanda that Helen is talking about her and that she's voting with her side of the house.

11:11 AM BBT – Amanda and Helen agree to ignore what Jeremy says because he's just trying to secure the votes against Elissa.

11:13 AM BBT – Spencer tells Jeremy that Jessie is voting to evict Nick. Talk turns to Helen winning HOH and MVP and Spencer thinks they should evict Helen tonight instead of Elissa. Jeremy thinks they should stick to the plan to evict Elissa.

11:19 AM BBT – Jeremy confronts Jessie about her vote. She tells him she's still voting to evict Elissa, not Nick.

11:23 AM BBT – Jeremy continues his nervous scramble and is now telling Helen that people from her side of the house are talking smack about her.

11:30 AM BBT – Andy is making sure Howard didn't get to Candice. He tells her if she doesn't vote to evict Nick they lose this game. She agrees and says she isn't flipping.

11:40 AM BBT – Feeds cut for show prepping and rehearsal.

1:10 PM BBT – Andy also makes sure Jessie is still on board to evict Nick. She says she is.

1:19 PM BBT – Now Spencer has decided to flip and he's convincing Howard to do the same. Spencer says that Jeremy is a wild card and he is not a good person to be in alliance with. Spencer tells Howard that he is with him 100 percent and if they get Nick out, they ditch Jeremy and work with each other and McCrae. Spencer also mentions burying his obsession with targeting Amanda. Nick walks in before we can get a read on what Howard thinks.

1:25 PM BBT – Nick is finally starting to sweat. He's now going around trying to figure out votes.

1:52 PM BBT – Nick gets confirmation from Andy and Judd that they're voting to evict Elissa (they're lying).

2:10 PM BBT – Spencer tells McCrae to vote to evict Nick and ditch the Moving Company.

2:15 PM BBT – Now Nick and GinaMarie are both sweating and asking Amanda to help them stay safe.

2:30 PM BBT – McCrae is nervous that Spencer's change of heart is the Moving Company turning on him. He decides to vote to evict Elissa to cover his tracks.
So there you have it. It's after mid-day in the Big Brother house and right now it looks like the houseguests have turned on Nick in favor of keeping Elissa. It also looks like the end of The Moving Company is near. If this all plays out the way it's been planned, tonight's episode and the fallout on the Feeds are going to be awesome!
You can watch all of these Big Brother 15 events using the archives flashback, the DVR-like feature of this year's Live Feeds which means it's always live, even when you missed it! Sign-up now to get the free trial to watch it all live & uncensored.