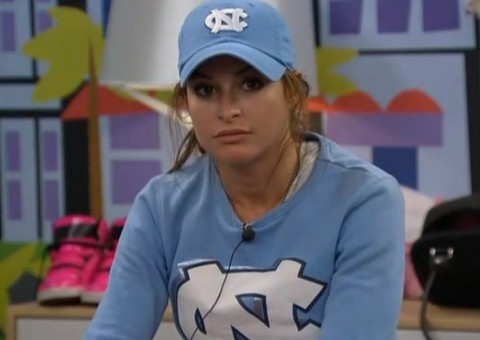 It was an interesting week in the Big Brother 15 house. And by interesting I mean almost no one deserves to be on the list of top players. That's because every time someone made a good move, they'd make a terrible move to cancel out the good move. So this week's player rankings list is going to be interesting. So let's get to it.
Big Brother 15 Week 4 Player Rankings 
1. America. Yes, you are No. 1 this week. Simply because you "overwhelmingly" voted Aaryn as this week's MVP nominee. Of course Judd nominated her, so America's No. 2 pick – Elissa – went up. Which still baffles me. Does Elissa have just slightly few haters than she does fans? Because you guys voted her MVP three other times. Or were you really just confused as to what you were voting for. Maybe you really don't deserve to be No. 1, America!
2. Aaryn. This is very painful to admit, but Aaryn is the only player who didn't cancel out any good moves she made. She made all the right deals and threw all the right people under the bus to go from public enemy No. 1 to safe (and coincidentally the Week 5 Head of Household). I'm a credit where credit is due kind of guy. And while I'd love to put Aaryn in last place for all the things she's said, I just can't.
3. Judd. I'm a Judd fan, but technically he doesn't deserve to be in this spot, but no one else does either. Not only did Judd not even mean to win HOH, he was instrumental in getting Kaitlin out this week instead of Aaryn. And he ruined America's MVP vote by nominating Aaryn! But he did nominate her as she deserved, so I guess No. 3 is OK for Judd this week.
4. Andy. Because Andy is a great liar and managed to keep Kaitlin in the dark. That sucks for Kaitlin, but it shows Andy is more than just a conversation spoiler.
5. Elissa. She should be higher for winning the veto and getting herself off the block. But she went crazy during the house meeting and turned her whole alliance against her. They were all ready to evict her right then and there. Not a good move.
The Rest
6. Jessie. She's getting much better at the game.
7. Helen. She had a curfew and gave our ears a rest a few nights on the Live Feeds.
8. Amanda. She managed to take over yet another HOH room.
9. Candice. She slept a lot and laid around on "Howie" a lot
10. Howard. He tried to form more horrible alliances with Spencer.
11. McCrae. He's not Spencer or GinaMarie. There's that.
12. Spencer. *See Howard
13. GinaMarie. Yeah. GM will basically always be last on the list, aside from the evictee.
14. Kaitlin. She was evicted. Enough said.