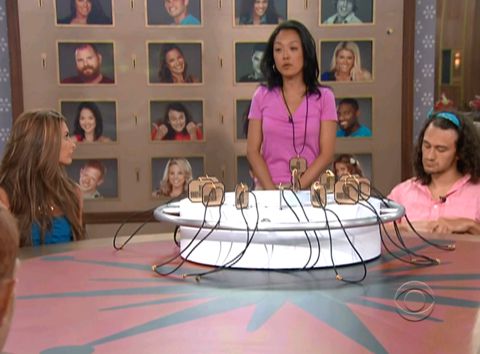 Week Three in the Big Brother 15 house is now history and we're looking ahead at week 4. But first. Let's take a look back at how things played out in week 3. This was the hardest one yet because as you may or may not know, I was not a fan of week 3. It was boring and predictable and almost nothing happened all week. So bear with me.
Big Brother Week Three Player Rankings
1. Helen. She led the house last week as Head of Household and also lead the true backdooring of Jeremy plot. It's not very often that a true backdoor can even take place anymore. Because in its truest form, backdooring means the player can't be on the block originally and can't play veto. Players and fans alike often misuse the term, but this week it was basically spot-on. I say basically because the original backdoor was hatched in Big Brother 5 when players got to choose the veto players themselves. OK, enough of that history lesson. Helen was sort of an annoying HOH with her "let's all love one another" mantra but she still used her reign to its full advantage.
2. Kaitlin. She went from sleeping most of the time to actually playing this game hard. Not only did she almost win the Head of Household, she did win the Power of Veto. The best move, however, was her using it on herself. She almost didn't. She almost sacrificed herself for someone she's known for a month. But she used her head and did the right thing and now she played as big a part as Helen in getting Jeremy, her boyfriend, out of the house.
3. Judd. By far, Judd is playing the best social game. He has a few people like GinaMarie pissed at him, but that's because GM is crazy. But Judd has been sitting pretty all three weeks off everyone's radar. And he's played a large role each time in getting the strong guy players out of the house.
4. Elissa. This is where the rankings get tricky because no one else really did anything this week. Elissa gets bonus points for standing her ground and nominating Spencer instead of Howard. Even though I'm pretty sure the Diary Room talked her out of nominating Howard from all the talk on the Live Feeds that was interrupting by the "We'll Be Right Back" fish.
5. Amanda. Sure she might be bossy and demanding, but she's playing the game. She's kind of been working as a puppeteer and it's working for her. She is on the edge of making herself a target though, so she needs to pull back a bit.
The Rest 
6. Aaryn. She cleaned up her act for the week and didn't get evicted. That counts for something, I guess.
7. Candice. She managed not to kill Aaryn.
8. Howard. He came clean to Helen about his secret alliance.
9. Spencer. He also came clean and also did not get evicted despite being on the block.
10. Andy. He's everywhere and in everyone's business. I don't know if that's a strategy or he just has sitcom neighbor syndrome.
11. McCrae. His job for the week was keeping Amanda happy.
12. Jessie. She's managed to get on Judd's good side and therefore in the majority of the house.
13. GinaMarie. She's really worthless. I almost ranked her lower than the evicted houseguest, but I decided to throw her a bone.
14. Jeremy. He was evicted and sucked at campaigning for votes.
How would you rank the Big Brother 15 players this week?