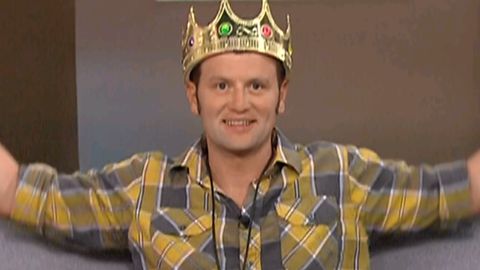 Later today in the Big Brother 15 house the HGs will gather in the kitchen and either "schwing" their way to safety thanks to the added audio effects of plastic keys being pulled from the key block or find themselves on the chopping block.
Judd is the new sheriff in town and it's his turn to make some decisions. From what we heard overnight on the Live Feeds things are looking pretty clear for who is in trouble.
Judd is part of the majority in the house and that narrows his "safe" options to just a few HGs. Aaryn, GinaMarie, and Kaitlin are all that remains of the Blondentourage. These picks would upset the fewest people and considering Judd said he didn't want to win HoH this week then you can bet he won't be anxious to make "big moves."

Aaryn spoke with Judd overnight and he promised her safety but wouldn't do the same for her alliance. She reported this back to GM & Kaitlin to prepare them for their noms.
Amanda is still pushing for Howard as a backdoor target, but thinks she can work Elissa as the presumptive MVP this week. That's going to be a big surprise for her. In the meantime, Judd doesn't seem to share this same evict-Howard obsession, so I don't expect that to even be an issue this week.
Sign-up now and start watching in-house cameras on Big Brother 15
We received confirmation from Judd which HGs would be nominated when he talked with Amanda and McCrae right around 5AM BBT this morning. Judd said he was planning to nominate Kaitlin and GinaMarie with GM being a "definite" nom. If he wiggles on Kaitlin then it'll be Aaryn, but I would be surprised if he doesn't just go with Kaitlin.
Later tonight we'll get the official nomination results by watching the house react post Nomination Ceremony. Keep with us on Facebook, Twitter, Email, and by App to get those updates sent right your way as they happen.