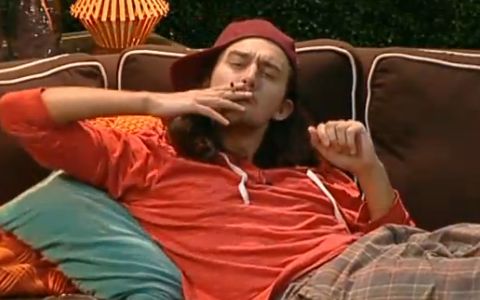 Later today the Power of Veto Ceremony will take place in the Big Brother house. Knowing who won the Veto on Saturday makes it obvious what is going to happen, but some HGs dream for the impossible and that's keeping things interesting ahead of today's meeting.
Since late last night the Exterminators have been working on a plan to get McCrae to use the Veto, but not on himself as everyone expects. Andy and Spencer concocted a plan to have GM offer to throw the next HoH competition in exchange for McCrae saving her and then the house allegedly voting out Judd when he goes up as the renom. Of course their real plan would be to vote out McCrae.
Crazy, right? McCrae would agree with you. After Spencer and Andy came up with this plan (Flashback to 11:55PM BBT 9/8) Andy went and shared it with GM. She agreed it was worth a shot.
Andy proposes this plan to McCrae suggesting it was something she came to him and offered. McCrae is very hesitant and suspicious of such a bizarre idea. After a long discussion McCrae continues to push back on the idea, but surprisingly the guys aren't giving up.
click images to see full-size
GinaMarie and Andy review the situation in the backyard (Flashback to 1:06AM BBT) with ideas on how she can work McCrae to do it. Andy suggests McCrae is really considering the idea so GM plans to talk to McCrae.
Jump to 1:44AM BBT to find McCrae and GM talking in the backyard about their plan. McCrae keeps saying he's not crazy about the idea and it's pretty obvious that he's not interested. None the less, GM continues to work the idea.
Meanwhile, upstairs Spencer and Andy agree that they want Judd to leave this week over GM if this plan doesn't work. Heck, Spencer even says if they could get McCrae to do this then he'd think about keeping McCrae and still voting out Judd. Hah!
Considering there's little to no chance that this will work prepare to say goodbye to Judd. Again. When the Power of Veto ceremony is held today McCrae will use the Veto on himself. Judd will go up as the renom and then head to Jury during the surprise eviction.
Do you think the Exterminators ever had a chance of convincing McCrae of using the Veto on someone else? What would you have said to him to try and get him to follow this ridiculous plan? We'll keep you updated on the spoilers later today.