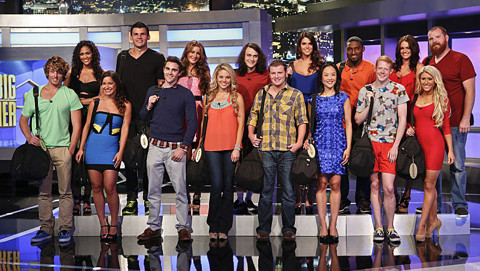 Big Brother 15 Week One is officially behind us so it's time to look back on that seemingly long, long week and decide who stepped up and who fell flat in the game.
I'll pull out the Top 5 players and then rank the rest in order from best to last. And this is only from Week One. Anything that happened after Wednesday night's live show will be considered for next week's rankings. So let's get to it.
Big Brother 15 Week One Player Rankings
1. McCrae. He wasn't exactly the mastermind behind all the moves in the first week, but he was the guy living in the Head of Household room and and also snagged the first Power of Veto win of the season. He may have played too early too fast for some seasons, but I think this season it's OK. There are bigger fish to fry in this game. On top of his competition stats, McCrae also played a fantastic social game and scored the respect of almost all the houseguests.
2. Nick. This guy has completely flipped on me from his pre-show interview to now. He's not as annoying as I imagined and he played really hard this week. He is basically the person responsible for getting David out and for also realizing his alliance could use Elissa's future MVP status as a tool for their own game. He's not doing the best job at social game, though, as half the HGs suspect he's some sort of plant or special player.
3. Amanda. Not only is she the most entertaining in the Diary Room, she's playing the game hard. She orchestrated most of McCrae's moves and was fully on board and helped execute Project Keep Elissa so they can use her as their weapon.
4. Spencer. This dude might be a disgusting pig with the things he says about women and if this was personality rankings, he'd be near the bottom. But since it's all about game, he comes in at #4. He is playing a pretty good game all around. His Moving Company commitment is impressive and his social game is surprisingly good (I don't see why, but it's working with this cast).
5. Elissa. She barely sneaks into the list for being the person to actually nominate David, which lead to his eviction. She should probably be lower on the list though because she failed miserably at keeping any of her secrets for the week. But in her defense, everyone was figuring it all out anyway. She does look pretty much just like her sister Rachel.
The rest
6. Judd. Good social game and a few smart moves.
7. Howard. Good social game and part of the Moving Comapy.
8. Jeremy. His social game is awful, but he's playing the game.
9. Helen. Good social game. Not much else.
10. Candice. She's figuring out a lot of things in the game and was able to come off the block.
11. Andy. He's kind of floating around but he's not really pissing anyone off.
12. Jessie. She's just kind of there but she's not making too many waves. Yet.
13. Kaitlin. Of her crew, she's probably the one with the most compassion.
14. GinaMarie. She's basically an idiot and following everything Aaryn does.
15. Aaryn. Horrible, horrible, horrible social game.
16. David. He went home. He has to come in last place.
Keep in mind, these rankings are based on my opinions and thoughts. Feel free do disagree respectfully and share your thoughts and own rankings in our comments section below!