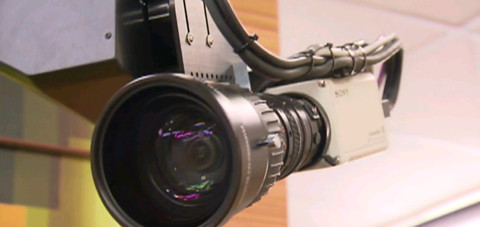 It's nomination day in the Big Brother 15 house and this week's Head of Household and her associates have been holding court in the HOH room. One by one, Aaryn and Jeremy have been going through the housequests with their intimidation tactics masked by the whole "who should be put up question" even though everyone on the planet knows they're going to put up Elissa and Helen. So that's consumed most of the day on the Live Feeds, but expect some heat tonight following the nomination ceremony.
Read about those moments and others on our Live Feeds highlights below. And remember that you can check out any of these moments by using the Live Feeds flashback/archive feature.
Big Brother 15 Live Feed Highlights – Friday, July 5, 2013:
10:00 AM BBT – Houseguests are slowly starting to wake up. Today is nominations day.

11:08 AM BBT – Spencer thinks Judd should go soon. He says he's sneaky.

11:17 AM BBT – Aaryn counting votes. She's all over the place. It's presumed she'll nominate Elissa and Helen but she keeps talking about Nick masterminding David's eviction. Then talk goes to Candice when Kaitlin suggests nominating Helen might be a bad idea.

11:39 AM BBT – Aaryn asks Spencer if he and Candice are friends. He says now. They talk about getting Elissa's group (Elissa, Helen and Candice) out.

12:15 PM BBT – Outside lockdown

12:38 PM BBT – Lockdown over. Houseguests go in to find out America voted liver and lima beans as the have-not food.

1:00 PM BBT – Aaryn is still confused and stressed about nominations. She decides she, Jeremy and Kaitlin need to start calling up HGs one-by-one.

1:10 PM BBT – Jeremy confronts Judd. Tells him he's not happy with him. He says he's been hearing that Judd has been telling Elissa information. It's really just an intimidation tactic so that Judd will evict Elissa.

1:30 PM BBT – Howard is the first person called to the HOH room. They tell him Elissa is going up and that he needs to vote her out. These people are real pieces of work. Jeremy does most of the talking even though this is Aaryn's Head of Household.

1:39 PM BBT – The rest of the houseguests are called up one by one. This goes on for a while.

2:25 PM BBT – Andy says he feels like they're being bullied with the HOH meetings and who they should vote for.

2:45 PM BBT – Kaitlin freaking out about going up as the MVP nominee. Jeremy is telling her he will protect her.

2:59 PM BBT – During Nick's "interview," Aaryn steps away and Jeremy gives him a Moving Crew symbol to let him know they're solid.
As you can see, there is a lot of wacky stuff going on today. I think when the feeds cut and return, Elissa and Helen will be nominated. But we've still got the MVP's nomination to go and almost an entire week before the next eviction.
You can watch all of these Big Brother 15 events using the archives flashback, the DVR-like feature of this year's Live Feeds which means it's always live, even when you missed it! Sign-up now to get the free trial to watch it all live & uncensored.