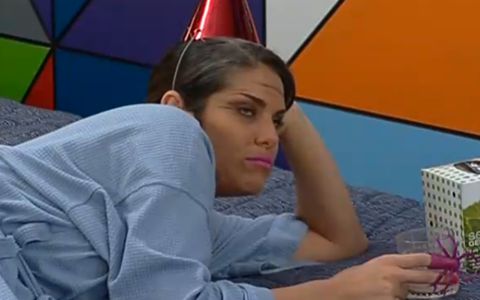 The Veto Ceremony will be held later today and McCranda is stressing what's about to happen. So much so that Amanda has taken it upon herself to make life difficult for Elissa in hopes it'll change her upcoming move.
With the Veto set to be used Elissa will have to name a renom. The new target became aware of what was going to happen just after we did and the results have been dramatic. In an attempt to divert that renom aim Amanda has been making some, well, "interesting" game moves that are likely to thrill her fans and make her detractors even more unhappy.
McCrandy know that Elissa is planning to renom Andy when Amanda uses the Veto and saves McCrae. Reminder: Amanda is not an eligible renom option as the Veto winner can never be renom'd. Amanda believes they can influence Elissa to nominate GM instead of Andy. If that happens then McCrandy could vote out GM and keep 3AM in tact. That's not going to happen.
Elissa has repeatedly said that she won't waste her HoH week on GM or Spencer. She's also said that she knows if she put up Judd as a pawn the house would vote him out. She's being very strategic in her nominations with the goal in mind to evict Aaryn.
Amanda has stubbornly refused to believe she can't get Elissa to do what she wants. Most everyone else can see it and are ignoring her instructions to go do this or that. As a result, Amanda has taken it upon herself to make it happen.
Flashback to a little after 3PM yesterday to find Amanda dressing herself up as "Bubby, the Torturing New Years Granny." She made herself look old and is going around the house blowing a party horn and yelling at Elissa. Amanda believes if she drives Elissa nuts then they can send Andy up to be her comforter and earn enough appreciation from Elissa to keep him off the block.
click images to see full-size
Amanda was brutal in her attacks on Elissa. She blew her horn in her face, followed her around doing the same, and then sat downstairs shouting verbal abuse after Elissa locked herself in the HoH room.
Later on Sunday close to 6PM BBT the Feeds went to nearly an hour of Trivia. That's not normal. When the Feeds returned nothing seems to have happened. Elissa was sleeping in her HoH room & Amanda was still downstairs laying on the couch and screaming at Elissa that she was a "bitch" and this was all her fault.
Not too much later we got extended Fish for about fifteen minutes. When that was over Amanda had stopped. Aaryn asked Amanda if she was told to stop. Amanda says she's not breaking any rules, but is just taking a break. Later McCrae asked if she was in trouble but Amanda said she wasn't.
Was Amanda's behavior brutal and unpleasant? Absolutely. Was it against the rules? No. We've seen this a lot before in past seasons and it's been done to even more extremes. In this case Amanda is not going to get what she wants and risks polarizing the other HGs over the behavior. I believe it's a poor game move on her part, but we'll have to wait and see if there's any long term damage from it. Probably not.
In a few more hours the Veto Ceremony will be held. Amanda will save McCrae. Elissa will renom Andy. From there the battle will be on and 3AM will become 2AM by Thursday night one way or the other.
What do you think of Amanda's tactics and which HG do you think will head to Jury?