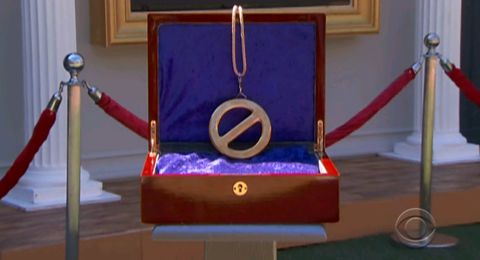 Houseguests have wrapped up the Veto Ceremony for this week on "Big Brother 15." You can sign-up for the live feeds now and watch the houseguests plot and plan for Thursday now that they have the final nominations.
Read on to find out the latest spoilers and discover who is on the block.
This week's Veto winner, Amanda, obviously used the Power of Veto to save McCrae.
Elissa was forced to name a renom and just as we expected she put Andy up on the block. Andy has been crying and fake-crying about this since Amanda won the Veto and he realized this was the plan.
click images to see full-size
Andy doesn't understand why he is up on the block though it's been explained to him several times. Elissa wants Aaryn gone and if GM was up on the block instead then McCrandy would vote out GM and keep Aaryn. With that in mind, Elissa had one choice to break up the 3AM alliance.
Do you think Elissa made the right choice for the Veto renom? Which of these nominees would you like to see evicted next?
Jump on your Live Feeds now to watch the house react. Don't have the Feeds yet? Get your Free Trial right now and see what other fans are watching right now.