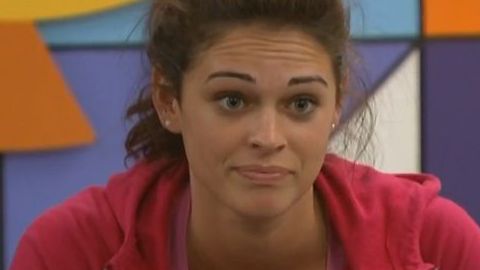 Later today in the Big Brother 15 house the HGs will gather in the living room and hold this week's Veto Ceremony. The winner will have decide whether or not to use the Veto and on which HG. If you've been reading our BB15 spoilers then you should have an expectation of what's about to happen. Let's take a look at the latest.
Yes, as it seems to usually happens, the one person most HGs did not want to see win the Veto did exactly that. Kaitlin is up on the block and she secured the PoV win this week at Saturday's comp. Now the HGs weren't aiming for her to go, but her win means she controls whether or not a spot opens up for their real target: Jeremy.
Last week before the Veto competition Kaitlin said if she was drawn to play and she won she wouldn't use the Veto to prevent Jeremy from being backdoored. It didn't end up being an issue since he was MVP nom'd up front and she didn't play, but it set the tone for the situation if it should ever happen again. Well, it happened again this week.
So now with Kaitlin playing potential gatekeeper to Jeremy's eviction the other HGs stepped in to insure she'd take action. On Saturday morning Amanda threatened Kaitlin that if she won the Veto and didn't use it then she'd be evicted as retribution. I expected this to backfire after Kaitlin kept saying she wanted to go home on Thursday night, but instead it actually worked. Kaitlin was in tears when she realized the house was going after Jeremy and she could end up being the enabler of that situation.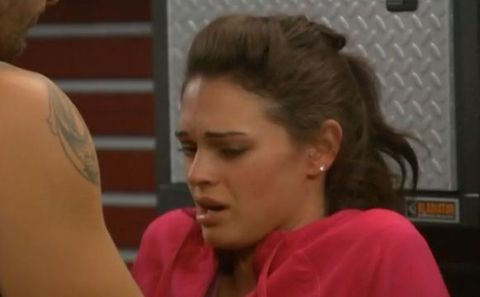 Once the results were in and Kaitlin was confirmed as the winner the HGs were in a panic that she'd keep the nominations the same. McCrae said it'd be "disrespectful to the game" to have the Veto, be on the block, and not use it for her own safety. Those concerns were soon put to rest.
Kaitlin and Andy met in private where she confirmed she was going to use the Veto. Next she went up to meet with Helen where she again confirmed she would use the Veto even with Helen telling her there was no way to avoid putting Jeremy up in her place. Kaitlin cried. Helen cried. Andy even cried. Why those last two cried, I don't know.
After Jeremy's fate was confirmed, Kaitlin went back down and told him the news. Jeremy took it surprisingly well and told her she needed to use it to make sure she was safe. He wasn't upset and told her he wasn't worth crying over as someone she just met.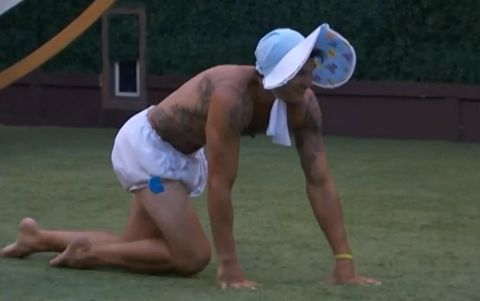 Since then we've seen Jeremy lightly campaign. "Do you want to hear my campaign speech?" he asked Judd. "Don't vote for me!" But overall he's taking it very well. That could all change when he is up on the block and sees there's no way to avoid going home. He's told the girls he'll go out with a bang and we believe he could do it.
We'll keep our eye on the Live Feeds and share the spoiler results when the Veto ceremony is over this afternoon. In the mean time, be sure to sign-up for the in-house Live Feeds and see what happens next.